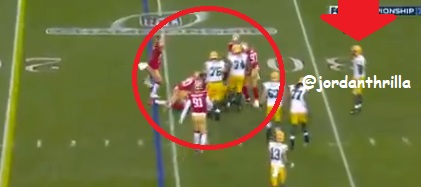 Aaron Rodgers Pulls a Cam Newton And Doesn't Go For the Ball After A Hike Fumble during 49ers vs Packers Game.

Will Aaron Rodgers get the Cam Newton Treatment? That is what the world wants to know after Aaron Rodgers just stood there and stared at the football after it was fumbled during the hike.

It caused another turnover for the Packers whom were already down 17 points, and Aaron Rodgers walked away like nothing was his fault as usual.
Back in the day, when Cam Newton was in the Super Bowl he got chewed up by everyone in the media for not going for the ball. If the media is consistent with their critique, we should see the same happen for Aaron Rodgers.
Author: JordanThrilla