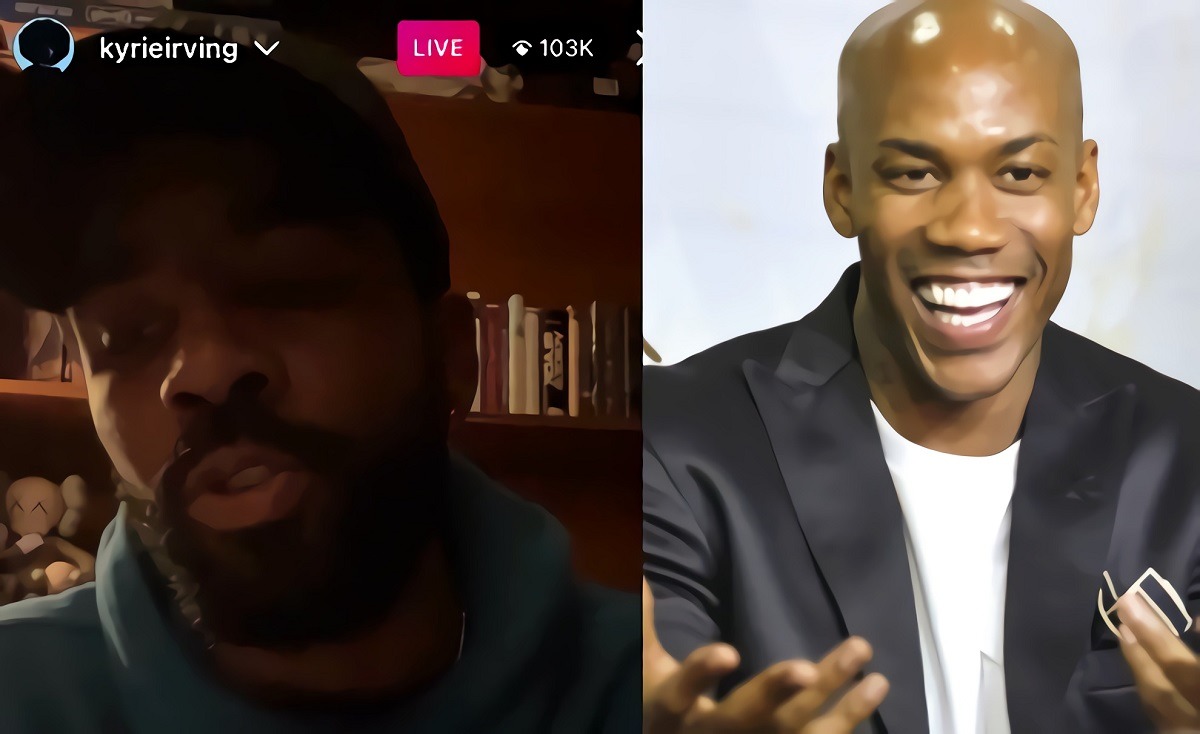 Kyrie Irving finally cleared the air on his vaccination controversy with the Nets, and he made a lot of powerful statements. With over 100,000 people watching Kyrie Irving got on Instagram Live to explain why he isn't getting vaccinated. One of the unexpected celebrities and former NBA superstars who felt what Kyrie Irving was saying was Stephon Marbury.
Kyrie Irving's Instagram Live Explained Why Isn't Getting Vaccinated
The gist of Kyrie Irving's Instagram Live speech was that he feels that people are trying to use him as a tool to further an agenda (vaccine mandates). He says this isn't about money, the Nets, the NBA, but rather about people being allowed to do what's right for them. Kyrie Irving is still shocked that people are trying to take everything away from him simply because he isn't vaccinated against COVID, and he has a point.
Like Kyrie Irving says, it seems clear there is an agenda behind these vaccine mandates, because of all tthe inconsistencies behind why and how they are being implemented. Kyrie Irving chose not speak more about the agenda he feels is being pushed.
Kyrie Irving isn't the only NBA player that believe there is an agenda. A few weeks ago Draymond Green insinuated the same thing while defending Andrew Wiggins.
Take a look at Kyrie Irving's Instagram Live speech about vaccine mandates, Nets banning him for not being vaccinated. Then checkout Stephon Marbury's reaction Kyrie Irving's IG Live.
Part 2.
Stephon Marbury Comments on Kyrie Irving's Instagram Live About Not Getting Vaccinated
Stephon Marbury had a interesting take on what Kyrie Irving is doing that really does make sense. Stephon Marbury said that Kyrie Irving is bringing the unvaccinated and vaccinated together, and it's really true when you think about it. In his full statement Stephon Marbury said,
"You're bringing the vaccinated and unvaccinated together. That's a different power no one has ever seen before".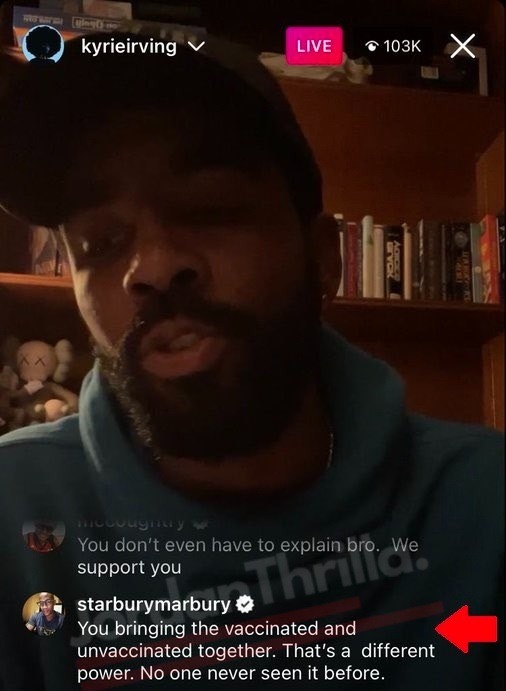 Whether you support vaccine mandates or are against them, people are admiring what Kyrie Irving is doing. In recent times we have never seen an NBA player take a stand against something, and risk his career doing so in this fashion. Both sides of the equation are starting to agree that vaccine mandates seem overbearing, and bit sketchy. People are starting to see how good people like Kyrie Irving are being vilified simply for not taking the COVID vaccine.
Kyrie Irving is showing the world that he truly has values that are more important to him than money, which sets a great example for society. In that sense Stephon Marbury is right about Kyrie Irving, he is bring the unvaccinated and vaccinated together.
Author: JordanThrilla Staff