Israel Adesanya dry humping Paulo Costa at UFC 253 continues to be the driving forces of insults used to disrespect him. Anthony Rumble Johnson dissed Paulo Costa with a gay slur "loose booty", after the two got in a verbal altercation on twitter. Anthony Johnson called Paulo Costa "loose booty" to throw salt in the wound of Israel Adesanya dry humping his unconscious body after knocking him out.
The verbal fight between the two UFC superstars started when Paulo Costa said, "Anthony rumble Johnson shut up moron you even don't know which weight class you should fight". Anthony Johnson replied saying, "I don't do the talking back and forth but the last B** you did that to f***** your a** at the end DOGGY STYLE. Now your name is LOOSE BOOTY. You must want missionary next by me? I respect you but make sure you know your role, I'm not the one kid".
Take a look.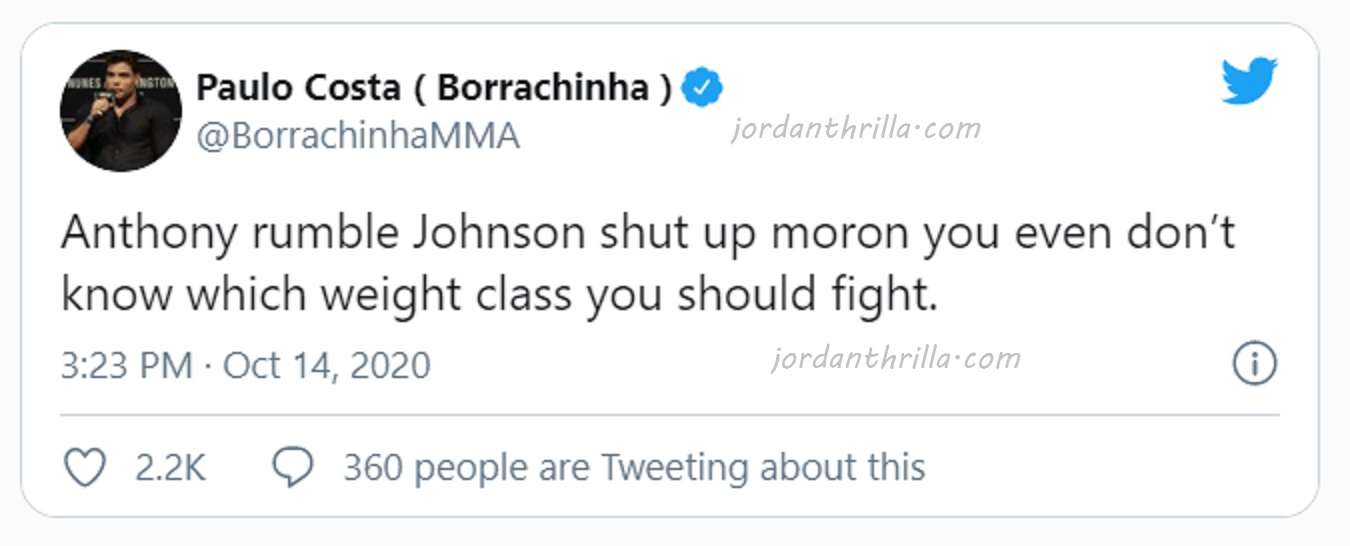 Anthony Johnson really dubbed Paulo Costa "Loose Booty", because he got knocked out and dry humped by Israel Adesanya, which has to be embarrassing for a professional athlete. It seems like people will never let Paulo Costa live that moment down.
Who wins a match between Paulo Costa and Anthony Rumble Johnson? Track records says Rumble Johnson wins easily, but the only way to know for sure is to see these two face off in the ring.
Author: JordanThrilla