#CloseTheSchools Goes Viral on Social Media Amid Coronavirus Fears.
Parents are demanding officials hashtag "Close the Schools" for their kids safety from coronavirus, and it made phrase start trending world wide on twitter.
Many people had already come to the conclusion that schools would ignore the parent's request, which led to millions of comedic tweets with the hashtag #CloseTheSchools.
#CloseTheSchools
Parents asking for schools to shut down for the safety of their children.

The Government: pic.twitter.com/LkSPKQmAds

— Baz Jamel (@BazJamel1) March 10, 2020
Me realizing half of the bathrooms at my school don't even have soap.#CloseTheSchools #Coronavirus pic.twitter.com/Y99C8OWhPx

— Jai (@SauceyJai) March 10, 2020
You're telling me I'm supposed to go to school with the knowledge of 350+ coronavirus cases ,anxiety and exam stress that's not on luv #CloseTheSchools pic.twitter.com/m1JBfCPM2l

— Teena ⁷ 🦋the untamed !! (@blueside02) March 10, 2020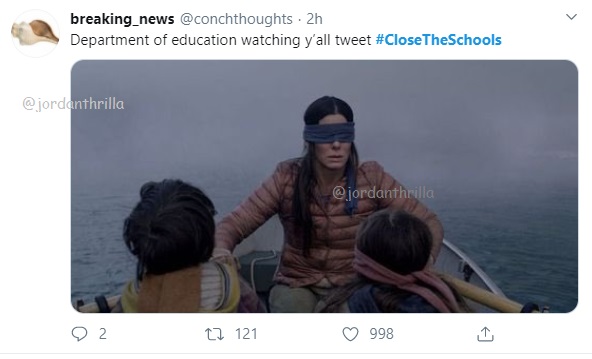 The tweets were undeniably funny. However, the underlying meaning behind the humor is still very sad. The fact that parents feel so strongly about closing the schools shows how serious the coronavirus has become around the world.
Then you also have to account for the people who already feel the schools will neglect the parents concerns, a sign the schools have history of doing the aforementioned.
Whatever decision the schools make, it's best to hope is that it's the correct decision. It seems like hashtag "Close the Schools" might be a trend for many weeks to come.
Author: JordanThrilla