Ne-Yo is going viral due to a cheating scandal that has a more than a few crazy plot twists. As you probably know Neyo is married to a beautiful woman named Crystal Renay now known as Crystal Smith. Apparently their relationship allegedly started as an affair, and now their relationship is in turmoil over an affair. In addition it's possible that a Neyo STD is also part of the equation based on the intricate details of the wording in the message.
Did Ne-Yo Give a STD to his Wife Crystal Smith After Cheating with Prostitutes? NeYo Likes Post from Crystal Renay Accusing Him of Cheating for 8 Years
According to Crystal Renay Ne-yo has been cheating on his wife for the past 8 years. She claims that Neyo has been having unprotected intercourse with prostitutes whom he pays for their services. Apparently she's been trying to keep up a façade of a happy relationship, but can no longer take the emotional pain after a recent occurrence. What's crazy is that Ne-yo apparently asked her to stay with him after all the alleged risky affairs.
The reason why people think Neyo has an STD, is because Crystal Renay Smith emphasized the word 'unprotected'. As you'll see in the message below she says, "8 years of unknowingly sharing my life and husband with numerous women who sell their bodies to him unprotected… every last one of them". She also mentioned her health in the post.
Usually when someone emphasizes unprotected intercourse and health when exposing their partner is cheating it means an STD of some kind is involved. Could it be possible that Ne-yo caught an STD from a prostitute, and gave it to Crystal Renay? That could explain how she discovered he was having unprotected intercourse with other women. The saddest part about this situation is apparently NeYo liked Crystal Smith's post about him cheating, which means he probably doesn't even care that much.
Take a look at Crystal Renay's message exposing NeYo cheating with prostitutes, and some social media reactions.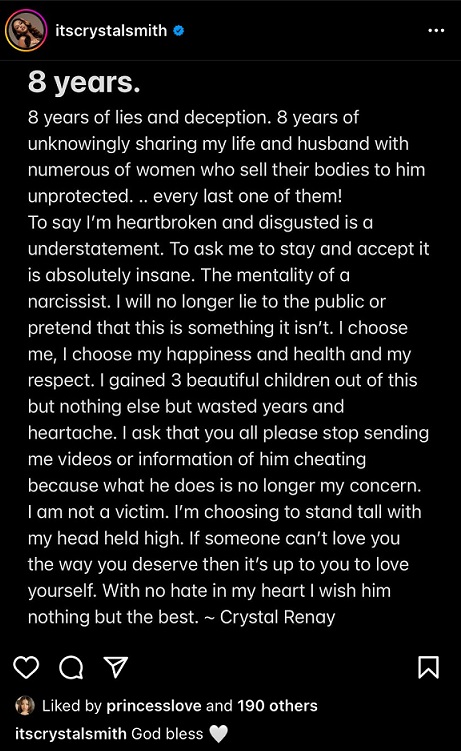 The short summary of this situation is so crazy. Allegedly Crystal Smith was the mistress when Neyo cheated on Monyetta Shaw. Based on the current allegations now Ne-yo is cheating on Crystal Renay, and prostitutes are the mistresses. Due to his infidelity it's possible NeYo gave an STD to his wife Crystal Smith. To put the icing on this drama filled cake, Ne-Yo liked Crystal Renay's post about him cheating, so apparently he's not phased by any of this.
This situation could be more proof of that old saying, "Once a cheater, always a cheater".