When Team Salvato and Serenity Forge revealed a new version of their legendary visual novel game titled Doki Doki Literature Club Plus would be releasing on June 30, fans across the world were naturally excited. However, it didn't take long for people to get confused after reading the description of this upcoming version of the game. It appears Doki Doki Literature Club Plus is marketing itself as a horror game, which has people coming up with all kinds of conspiracy theories about the direction it will go.
Doki Doki Literature Plus was originally created to be a dating simulation, which had a joyful tone overall. As the game title describes you play a main character that joins a literature club in pursuit of their love interest. You have to write poems and make the correct choices in order to get the perfect ending. However, this time around they are pushing the "psychological horror" theme hard, but haven't really explained exactly how it will be considered a horror game. Will this version have a dark twist to it?
Here is gameplay from the original version of the game.
Among the new features in Doki Doki Literature Club Plus will be 6 new side stories focused on building friendships through literature, hundreds of unlockable images, over 25 new songs, and a new built in music player. Perhaps the most incredible new feature is all the artwork now being in 1080p HD.
This picture below shared on Steam appears to show the aforementioned Music player.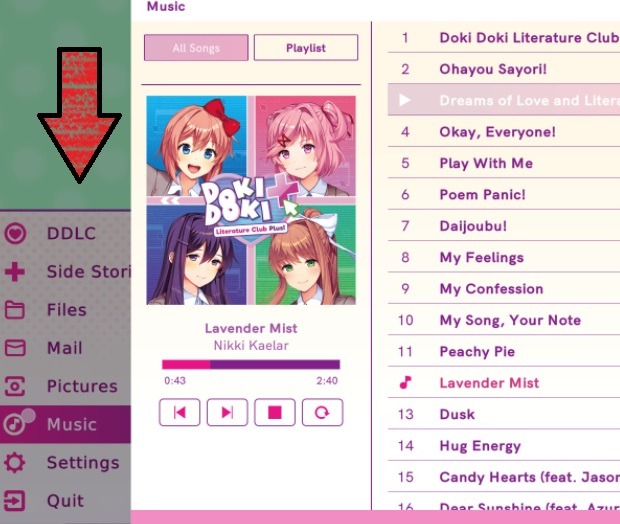 Does Doki Doki Literature Club Plus being a "Psychological Horror" game mean it will be a completely different experience from the original? How do you make a game like this scary?
The world will find out in 18 more days. Let the countdown begin.
Author: JordanThrilla Staff