The hip-hop world is in shock and sorrow after the news of rapper Magoo's death broke on Sunday. Magoo, whose real name was Melvin Barcliff, was 50 years old and had been a longtime collaborator of producer Timbaland.
Magoo was best known as one half of the rap duo Timbaland & Magoo, which formed in 1989 after the two met as teenagers in Norfolk, Virginia. They released their debut album Welcome to Our World in 1997, which went platinum and spawned the hit single "Up Jumps da Boogie" featuring Missy Elliott and Aaliyah.
They followed up with two more albums, Indecent Proposal in 2001 and Under Construction, Part II in 2003. The latter was a sequel to Missy Elliott's fourth album Under Construction. Magoo also appeared on several songs by other artists, such as Jodeci, Ginuwine, Playa, and The Black Russians. He was part of a group called SBI (Surrounded By Idiots) that included Larry Live and Pharrell Williams. He had a distinctive nasal voice and a witty rhyme style that complemented Timbaland's innovative production.
What Was Magoo's Cause of Death?
No official cause of death has been reported by outlets, but it has been confirmed that he passed away. It's not known if he was dealing with any serious health issues, or if some type of accident happened.
Many fans and fellow artists have expressed their condolences and tributes to Magoo on social media. One of them was Kaizer on the Beat, a rising producer from Virginia who had recently mentioned Magoo in an interview.
He tweeted: "Rest In Peace to VA Hip-Hop Legend Magoo. I'm Devastated. I was just mentioning Him in an Interview. I'm in Shock, Bro. A Supafriends Crew Member. With Static and Aaliyah. I memorized damn near The whole 'Welcome To Our World' album with his verses. Can't believe this".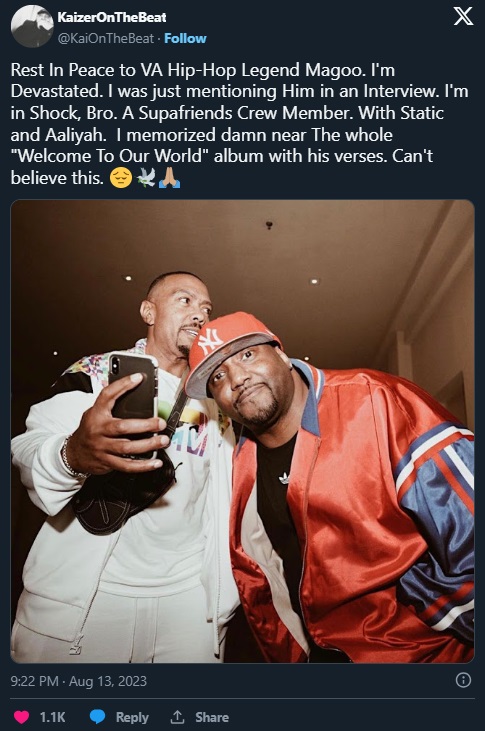 Magoo's legacy will live on through his music and his influence on the hip-hop culture. He will be missed by many who grew up listening to his songs and admired his talent.
He is survived by his family and friends, who have not yet released a statement on his death. This is a major loss for the hip-hop community.