Over the years music labels have been repeatedly accused of using different techniques to inflate their artists' streaming numbers. People believe labels do this when they want to make an artist appear more popular than they are, which psychologically leads to more individuals listening to see why they seem so popular. Atlantic Records is caught in controversy regarding these types of techniques.
What are Streaming Farms and 'Botting'?
Stream farms are places where music labels or random people use different setups to mimic a large number of humans streaming a songs on their personal devices. Often times the streaming farms are large warehouses where thousands of phones are set to automatically play certain songs in specific intervals to avoid being detected by any security algorithms meant to stop such tactics. The term "botting" refers to a music label using bots to inflate views or comments on a platform like YouTube.
Bots are computer programs that can mimic human activities on electronic devices such as clicking a link on a webpage over and over again. Botting is the act of using bots to carry out a large task of altering data, which in this situation relates to music. Recent evidence has sparked a conspiracy that Atlantic Records is using bots and international stream farms to inflate the numbers of artists such as Lil Uzi Vert, Roddy Ricch, A Boogie, Cardi B, and Don Toliver.
Details Behind the Conspiracy Theory Atlantic Records Used International Streaming Farms to Inflate Cardi B's Numbers
The evidence of Atlantic Records using international stream farms comes from a strange surge of Cardi B's old song "Thru the Phone" on Spotify Charts in other countries. Recently the track became the top streamed song in Latvia, Estonia, and Lithuania at the same time. People believe that's proof of Atlantic Records testing out foreign streaming farms, which would be less detectable. It seems almost impossible for an old Cardi B track to gain that much steam in countries that almost never stream her music in high numbers.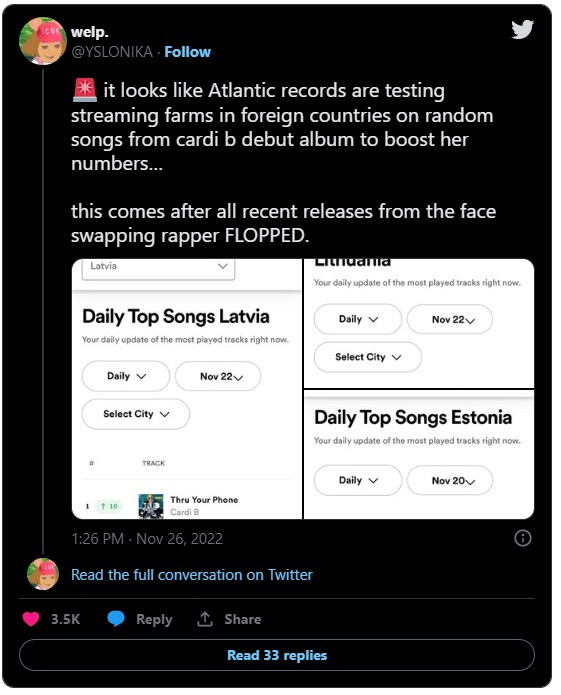 The Evidence Behind the Atlantic Records Botting Conspiracy Theory
While trying to beat the streaming farm allegations people noticed some sketchy jumps on the YouTube videos of several Atlantic Records Artists, most notably Don Toliver, Roddy Ricch, and Lil Uzi Vert. One of the easiest ways to spot a botting scheme is in the comments section of a YouTube video. A mass amount of comments that come within seconds of each other with similar messages are likely a bunch of bots. People believe that Atlantic Records is using bots to create an fake aura of virality around their artists' content by inflating comment numbers.
As you'll see below many of the comments on Atlantic Records YouTube videos are similar with a bunch of random emojis, and were posted within seconds of each other, sometimes at the same time. On the surface that seems like the work of spam bots hard at work fudging the numbers.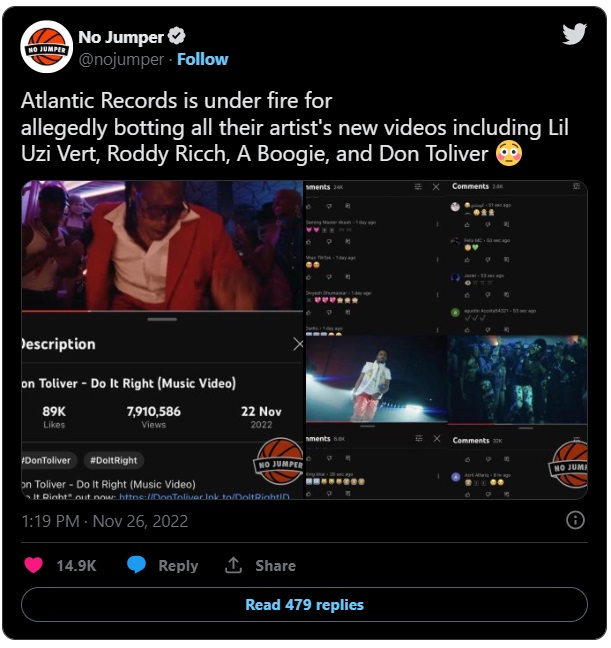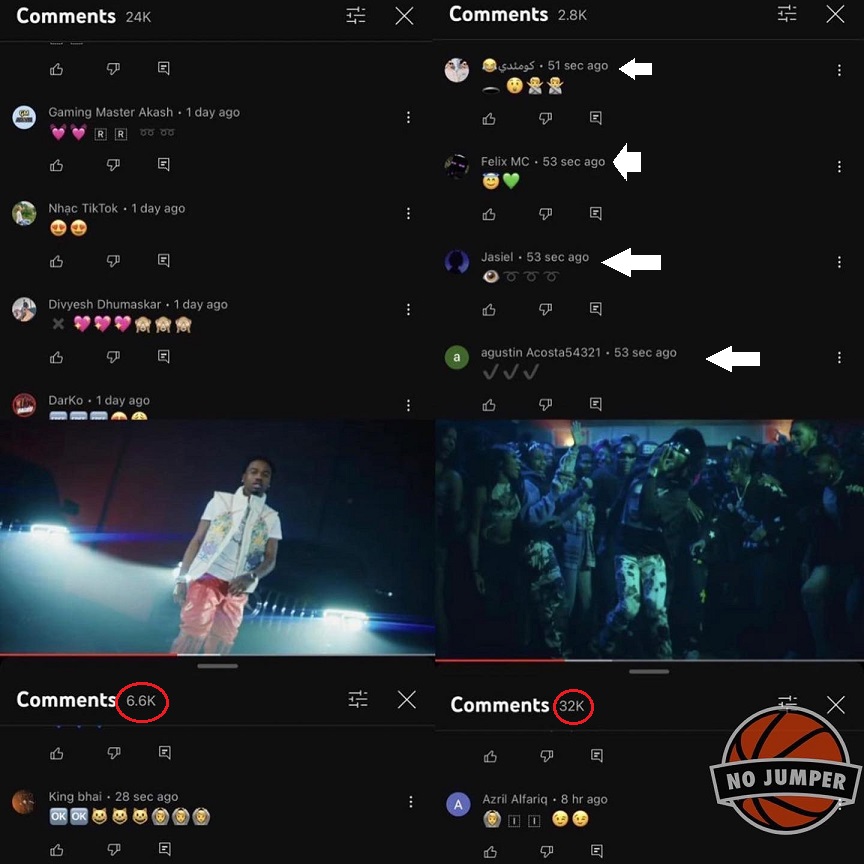 Is this more proof of a rigged music industry where success is based on who the powers that be want to be successful?