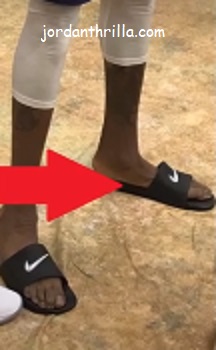 A cool video explains how Kevin Durant's flat deformed foot is the reason his Achilles Tendon gave up, and ruptured causing him injury. Having a flat foot is scientifically proven to put extra pressure on your Achilles tendon. This would even be more so when you are built tall and skinny like Kevin Durant.

While all that might be true, I would disagree with the video and say you could still possibly blame the Golden State Warriors for Kevin Durant situation. You could make the argument, that Warriors staff should of known about Kevin Durant flat deformed feet. Or maybe they did, but didn't have the proper knowledge to connect the dots with his calf injury, then overlooked it. Either way you slice it, it would still make a strong argument.
All I want to see happen is Kevin Durant make a 100% speedy recovery for Brooklyn Nets. Hopefully he is the same player he was before the injury when he returns. Would he be able to reach the greatness that Lebron and Kyrie reached together?
Watching Kevin Durant and Kyrie Irving sensitive personalities clash, is going to be priceless????. With Kevin Durant at 100%, Kyrie Irving wouldn't be able to use his Achilles issues as an excuse to be the sole leader on the team
Author: JordanThrilla