The Boston Celtics took a commanding 2-0 lead over the Atlanta Hawks on Tuesday night, but the game was not the only thing that got people talking. After the final buzzer, TNT's Inside the NBA crew showed a clip of Derrick White's postgame press conference, and they couldn't help but notice his unique hairline.
Derrick White, who usually wears a headband on the court, appeared without one in front of the media, revealing a hairline that starts way back on his forehead. This caught the attention of Shaquille O'Neal and Charles Barkley, who are known for their hilarious and sometimes ruthless commentary. This was their first time seeing him without the headband on, so all hell broke loose.
"Is that Stephen A. Smith or Derrick White?" Barkley asked, comparing White to the ESPN personality who also has a receding hairline.
Shaq started off the roast session by rubbing his head causing Charles Barkley to laugh, before they unleashed an onslaught of jokes. The two Hall of Famers made sure to let White know that they were just joking around, and that they respect his game. "We're just joking around. Don't get mad" they said as the camera cut to commercial break.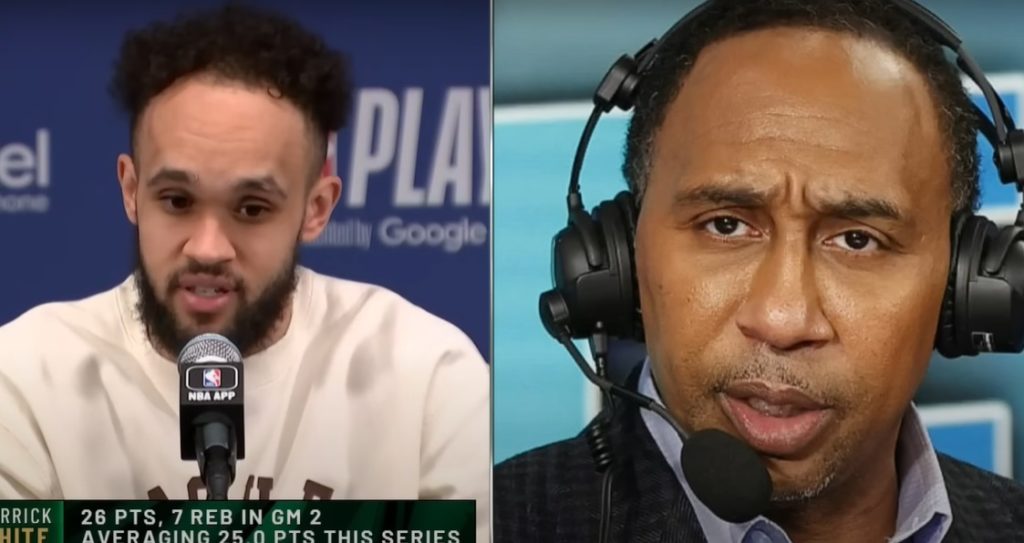 This was definitely one of those "once you see it, you can't un-see it" moments. Now everyone will think of Stephen A. Smith when they see Derrick White's hairline. Moments like that are why Inside the NBA is must watch TV.
The hairline jokes went viral on social media, as fans and celebrities chimed in with their own reactions and Derrick White memes. His hairline may have stolen the spotlight for the moment, but also during the game he was playing like a superstar. He had another stellar offensive night scoring 26 points on 11-16 shooting.