Jay Z Reacts to an allegedly Broke and In Debt Yo Gotti Losing $500k at Hard Rock Casino, while trying to impress him.
Sometimes it's best not to try and impress your idol. Yo Gotti learned that the hard way today.
Jay Z was seen laughing in shock and walking away, as he reacted to Yo Gotti unluckily losing $500,000.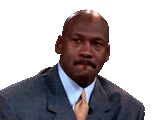 Yo Gottt allegedly currently owes $7 Million Dollars to another NC Rapper, so losing $500,000 is a very big deal. It's not known whether or not Jay Z offered to help out with the tab on the low. You could clearly see Yo gotti was "skressed", and yes I meant to spell it that way. "Skressed" is the next level of being stressed.
Pray for Yo Gotti through this tough time.
Author: JordanThrilla