Kristaps Porzingis DROPPED Kawhi Leonard badly. Kristaps Porzingis made Kawhi Leonard fall with a nasty crossover, then hit a pull jumper while he was still on the ground recovering. Kristaps dropped Kawhi so bad it's surprising he didn't get it injured.
The loud squeaking sound, was the sound of Kawhi Leonard's soul leaving his body after Kristaps Porzingis made him fall. Check out this incredible moment.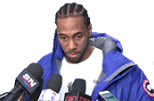 It was the best defender in the league going up against the tallest mobile player in the league. As they say, better offense always beats better defense. When Kristaps Porzingis made Kawhi Leonard fall, it was a prime of example of why that saying is true.
This is going to be a long series for the Clippers if they can't find a way to stop Kristaps Porzingis.
Author: JordanThrilla