Kevin Durant's legacy was ruined when he joined the Warriors in 2017, and it continues to degrade this season with all the moves Brooklyn Nets made. As a result Lakers fans exposed Kevin Durant on twitter after signing Andre Drummond, then KD responded admitting something about Lebron and Brooklyn Nets most people already knew.
What Did Kevin Durant Admit about Lebron James and Brooklyn Nets in the Heated Twitter Discussion With Lakers Fans?
The exchange all started when Lakers fan called out Kevin Durant for being on another team that could make the finals without him. They then exposed how Kevin Durant says stuff to fans on Twitter every time Lebron makes a move. They called Kevin Durant insecure about Lebron, and a person who lives for negativity.
Kevin Durant 100% agreed with all the aforementioned comments as he said "Absolutely". Finally Kevin Durant admitted he's insecure about Lebron James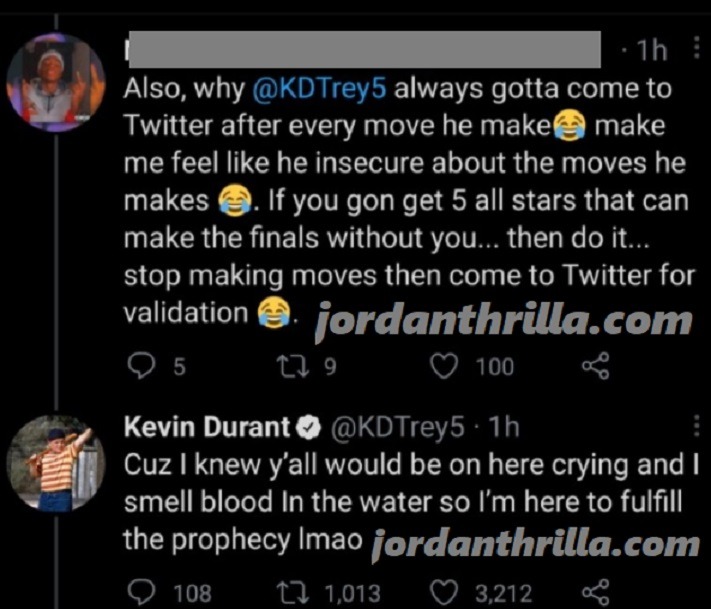 Lakers Fans Got Kevin Durant Admitting He is Insecure About Lebron James
Now the world knows for sure three things about Kevin Durant thanks to Lakers fans. He is 100% insecure about Lebron James being a better player than him, and also being ranked higher all time by leaps and bonds. Secondly, that insecurity has made Kevin Durant live for negativity, because he ruined his own career. Thirdly, KD is aware that Nets could make the finals without him.
Real NBA fans will never forget the person Kevin Durant was before he started willingly playing on teams that don't need him to make the finals. The guy that had a 3-1 lead over the Warriors, choked massively in Game 6, then abandoned his teammates and blamed them for it. Keep in mind that was the year Stephen Curry tore his MCL. That was the last time Kevin Durant was an actual leader of a team like Lebron James.
Lakers fans won that twitter battle against Kevin Durant, and got him to reveal skeletons in his closet regarding Lebron James. Lakers also won the trade deadline battle by signing Andre Drummond who is still in his prime, while Brooklyn just added a bunch of washed up players who can't play defense.
Author: JordanThrilla Staff