DaBaby's performance at the virtual VMAs was impressive, but a random magical person getting in his car stole the show. The man magically gets in DaBaby's car like a magician during his live Virtual VMAs performance, leaving viewers stunned.
Since the performance was live people where left wondering how he pulled the stunt off. This led to some people coming up with conspiracy theory that a magician was in DaBaby's VMAs performance. Take a look the strange footage, and don't blink too fast.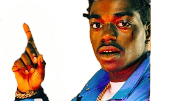 That's either a very well done illusion or real magic being done on Live TV. The way the possible Magician man gets in DaBaby's car while running after it makes you want to rewind the video, and do a double take. The car was moving, the windows where rolled up, and door didn't open, yet somehow the man still got in DaBaby's car.
Since we may never know the answer to how that was pulled off it remains a Getting in Car Conspiracy Theory about DaBaby's VMAs performance.
Author: JordanThrilla