Meek Mill's unhealthy diet got exposed after he revealed his stomach health issue to the world. In a viral tweet Meek Mill says, "My stomach has been messed up for months, and doctors can't locate the problem! I need some top stomach doctors". We all know Meek Mill doesn't workout, which makes his unhealthy diet even more detrimental to his health and likely related to his stomach ailment.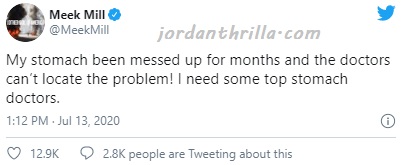 When we read the tweet about Meek Mill's stomach issues we immediately thought back to all the unhealthy food he shows himself eating on Instagram. Take a look at Exhibit A and Exhibit B below as evidence.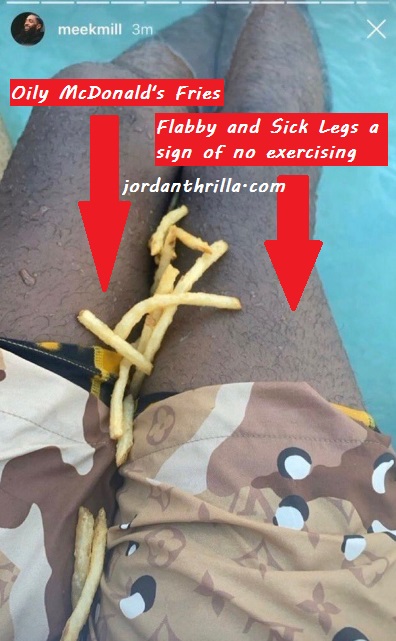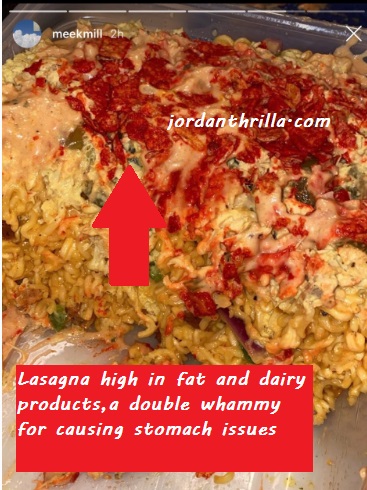 In Exhibit A Meek Mill was in his pool showing off the oily fries he eats often. You can see he as underdeveloped legs from lack of exercise and his unhealthy eat habits. In Exhibit B he was eating some Lasagna high in fat, salt, cholesterol, and dairy products. A potent combination that can wreak havoc on your stomach.
The cure to Meek Mill's stomach issue might be easier to see than he realizes. It is likely Meek Mill's unhealthy diet that's keeping his stomach messed. He also needs to get in the gym consistently, and maybe bulk up like 50 Cent during his G Unit days.
Let's hope the case of Meek Mill's stomach pain will be solved soon, no matter what the cause is.
Author: JordanThrilla