Megan Thee Stallion got glass stuck in her foot as Tory Lanez got arrested on Gun charges while she was in his car. When Police arrived Megan Thee Stallion had glass in her foot, and a cut on her face.
Investigators possibly believe Megan Thee Stallion was the target in a robbery since reports say she is listed as a victim. They allegedly believe Megan Thee Stallion stepped on glass from the broken windows of Tory Lanez's car.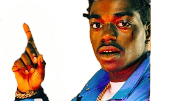 Earlier in the day Tory Lanez and Megan Thee Stallion were seen turning up on Instagram Live. Everything seemed normal, no indications of what would proceed to happen hours later.
Confirmed details around whether it was robbery or not is still murky. However, as stated before since Police have Megan Thee Stallion listed as a victim it means she or Tory Lanez was the target of a robbery or some type of fight.
Thankfully they both are alive, whatever happened. Let's hope Megan Thee Stallion foot injury isn't very serious, reports say she had to be taken to the hospital.
2020 just keeps getting crazier for Hip Hop artists.
Author: JordanThrilla