Lil Wayne is often described as one of the nicest people you will ever meet. Media personalities such as Skip Bayless attest to that all the time. However, based on a recent allegations it seems he wasn't being a good person to some of his most loyal workers that are employed by him personally. Social media is not happy about a rumor regarding Lil Wayne and his personal chef Morghan Medlock. However, it appears people might be misled as to the true nature of the situation.
Did Lil Wayne Fire his Chef Morghan Medlock Because She Wanted to See Her Sick Son?
According to reports Lil Wayne's personal chef is suing him for $500K. A viral rumor claims that Lil Wayne fired her after she left work to see her sick son in the hospital. We don't know the full details of the situation, so it's tough to judge fairly, but based on the reports social media is very angry at how Lil Wayne allegedly had no regard for the mental wellbeing of his loyal chef, and the physical wellbeing on her son. Firing someone for leaving work to see a sick family member just seems all kinds of mean.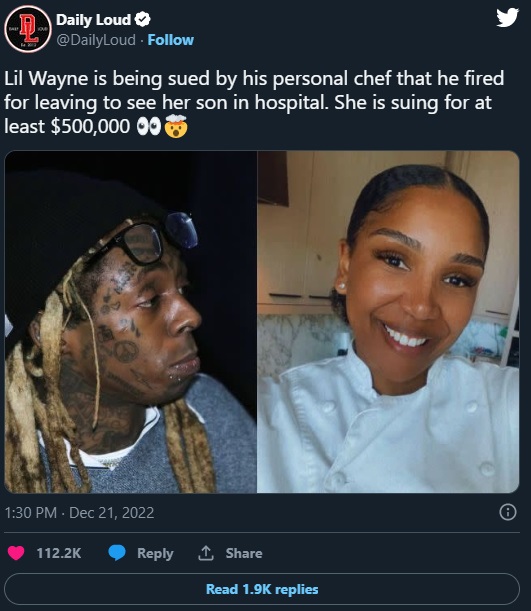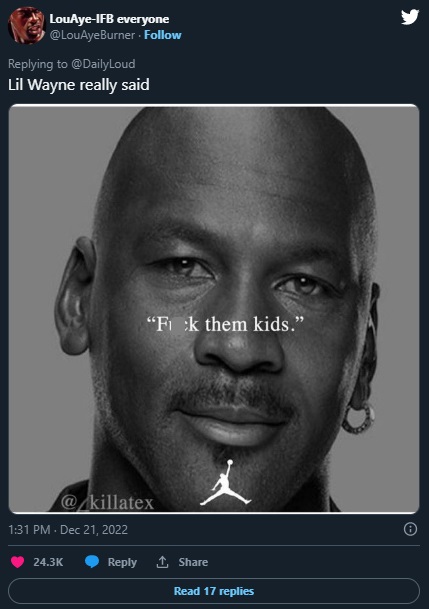 Lil Wayne's Chef Morghan Medlock May Have Doxxed Him Unintentionally Before Getting Fired
Apparently the tweet above may be misleading. There is another rumor that Lil Wayne fired his chef, because she doxxed him unintentionally multiple times. There is an allegation that Lil Wanye was not happy about his chef posting TikTok videos from inside his homes, and private jet of the food she was making, because he felt it revealed his location. As we all know for a famous rapper like him revealing his location in anyway could be dangerous. Should that be considered Lil Wayne chef's Morghan Medlock doxxing him? Take a look at some tweets about this side of the story.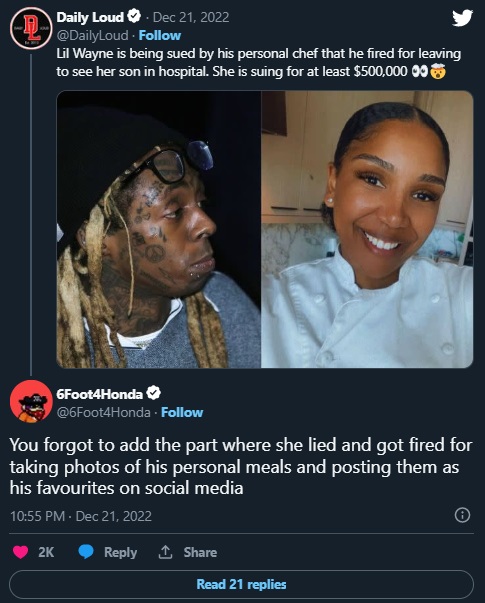 Here is a video montage showing how she was posting videos from his homes and private jet all over social media.
This is a perfect example how two different versions of story can become truth based on what version you heard first. On one hand many people believe Lil Wayne is some evil guy who didn't care that his chef had a sick son, then on the other hand people believe his chef doxxed him by not following his rules about what not to post on social media while she was working.
Whatever the case may be, hopefully Morghan Medlock's son is doing okay now.