People are wondering how Danielle Bregoli aka Bhad Bhabie Onlyfans Gifs leaked hours after she bragged about making $1 Million in 6 hours. When she made a post on Instagram showing her invoice to prove she broke an OnlyFans record that was held by another rapper and singer it seems people went to work immediately in order to make sure her content was available for free.
We speculated that people would find a way to leak Bhad Bhabie's OnlyFans content onto the Net in the coming days based on it happening to people in the past, but nobody expected it would happen this fast.
This was photo of her invoice she posted on Instagram to prove she made over $1,000,000.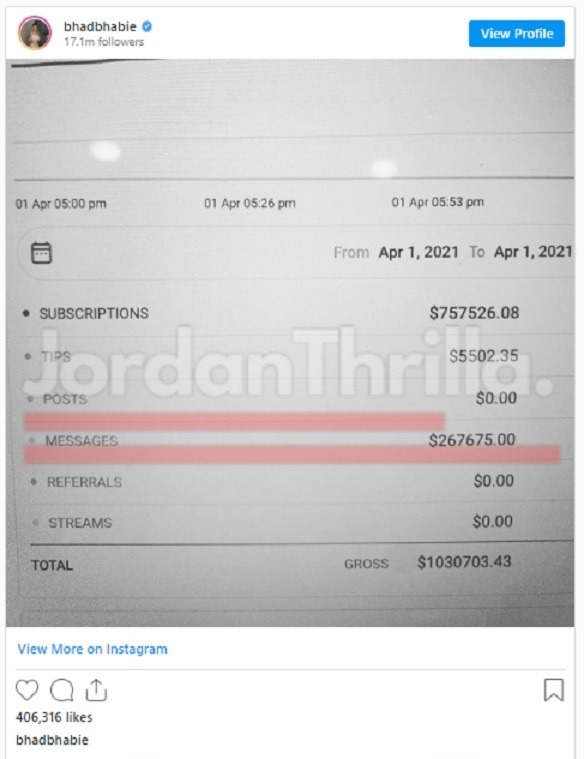 How Did Bhad Bhabie Danielle Bregoli OnlyFans Gifs Leak?
It's hard to tell how something like this happened, but one theory could be that people who are subscribed to her account just screen recorded some her videos and turned them into Gifs. If that's the case she still made some money of them. It's also possible she leaked them herself just to make her name trend even more. No one knows for sure except the people behind this leak.
The Bhad Bhabie OnlyFans Gif leaks adds to the list of people who got their content put out on the internet after telling the world how much they were making. People behind these types of leaks should stop though, because there is nothing worse than people messing with your flow of money. That is never right.