Social Media is one of the greatest inventions of mankind mainly because of all the priceless things that happen because of it. For example on a place like Twitter a simple image can become one of the funniest moments of the year in the blink of an eye. One example would have to be the situation Lil Kim and Jack Harlow are in unexpectedly due to Twitter.
Is the Picture of Lil Kim and Jack Harlow in 2004 as a Kid Real?
It's no secret that social media is always clowning some features about Jack Harlow's physical appearance. Recently someone made a post on Twitter alleging that people were looking at a picture of Lil Kim and Jack Harlow as a kid in 2004. It was very believable, because the kid looked like how you would think Jack Harlow looked at that age.
With that said the kid in the picture appears to be wearing female clothing. Unless Jack Harlow was wearing women's clothing at a young age it's safe to probably say that isn't him. Nevertheless the tweet racked up over 60,000 likes and counting. Some of the likes were probably from people who believed it was Jack Harlow, while others were likely from people laughing at how hilarious this whole situation is.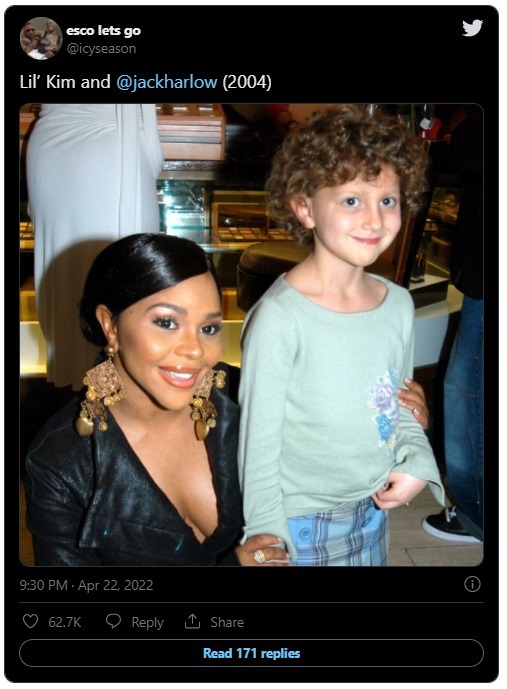 Social Media is going to have Jack Harlow searching through his old family photo album to prove what he looked like in 2004. At 24 years old currently he would have been 6 years old in 2004. Probably one of the funniest tweets this year so far.
On a side note that photo also highlights how much Lil Kim's appearance changed over the years.