NBA Youngboy portrays an image that he is a real as it gets when it comes to Hiphop artists, so this recent news won't be surprising. According to multiple reports NBA Youngboy turned down a $1 Million offer from Tekashi 6IX9INE to collaborate on an unnamed song.
$1 Million is a crazy amount for a feature, twice as much top level artists like DaBaby get for features. Given that fact you know NBA Youngboy is 100% against working with Tekashi69 in any fashion.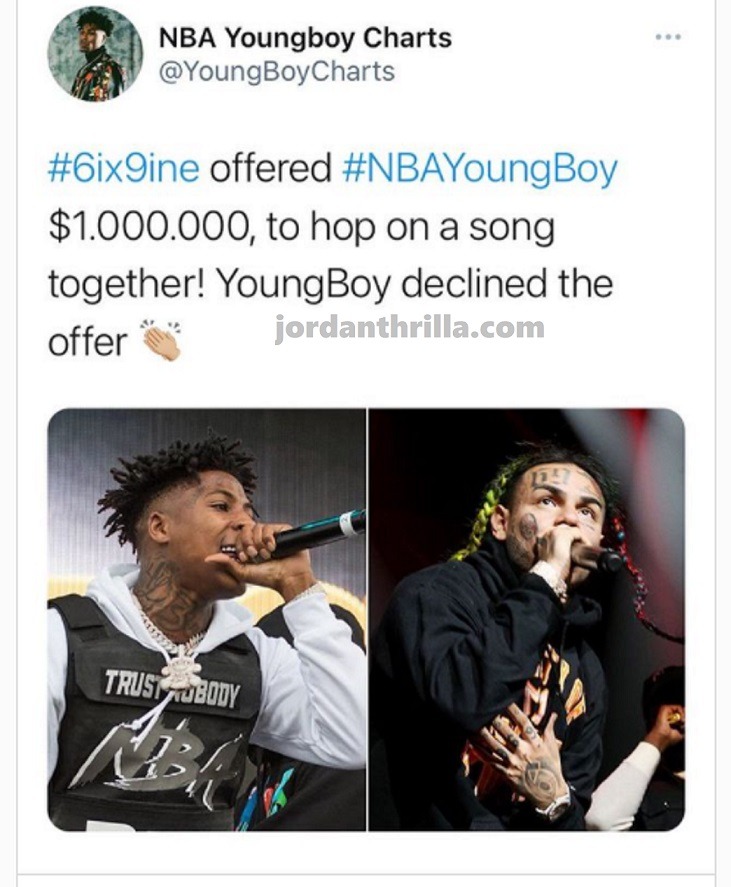 Tekashi 6IX9INE continues to be one of the most off limit Hiphop artists of all time. Despite his social media popularity he doesn't get played on radio, doesn't get invited to hiphop radio interviews, and no real hiphop artists would dare to collaborate with him. There's also the fact his album flopped.
Tekashi69 probably believes his popularity holds more weight than it actually does to other artists. His social media popularity hasn't equated to good album sales, which means people are entertaining his Instagram posts for reason that have nothing to do with his music, they don't actually go out their way to support him as an artist. Given that NBA Youngboy is just as popular as Tekashi 6IX9INE solely because of his music, it's clear collaborating with Tekashi would only hurt his career and image.
Author: JordanThrilla