A case of a TikTok stalker is going viral. A woman's stalker was caught breaking into her home during a TikTok video stream. Having a stalker can be the scariest thing for a woman, but it's not often you catch your stalker on TikTok video mistakenly.
As the woman records another pointless mundane TikTok video, things turn left when her stalker shows up at her front door leaving the woman in fear. She immediately stops dancing and begins asking her stalker "Who are you, who are you". The creepy TikTok stalker says "I am your friend". He appears to be wearing an orange jacket and jeans.
As the video ends the woman runs out of her apartment, but records the TikTok stalker in living room as he leaves out the back door.
Press the unmute button at the bottom right of the video if you hear no sound.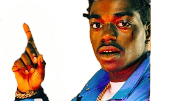 Although this situation ended without the woman getting harmed, this shows how easily her TikTok stalker could have done something to her. The fact that her door was open is very alarming, because it made it very easy for a stranger to just walk right in.
A woman's stalker caught breaking in during a TikTok video is definitely an incident that could only happen in a year like 2020. Let's hope the police get involved to ensure this woman's safety in the future, because that stalker could always come back.
Author: Jordanthrilla