Tyler Herro Snapchat Account Gets Hacked by an Instagram Model. Tyler Herro apologizes for his Snapchat getting hacked.
A woman on Snapchat hacked Tyler Herro's IG account, and began posting pictures of her eating various foods. The woman who hacked Tyler Herro's Snapchat was making different poses while eating the food such as donuts in the photos.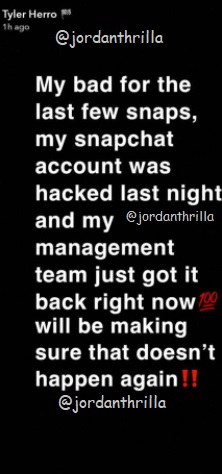 Tyler Herro issued a quick apology message letting people know that his team was currently investigating his snapchat account being hacked. He assured his fans it wouldn't happen again.
All in all, Tyler Herro got pretty lucky, because we have seen much worse things come from NBA players social media accounts getting hacked.
Author: JordanThrilla