A video of rapper Megan Thee Stallion bleeding from her foot after being shot by fellow rapper Tory Lanez in 2020 has resurfaced online and gone viral. The video was taken by a bystander on the night of the incident, and shows the aftermath of the shooting that left Megan Thee Stallion wounded and Tory Lanez arrested.
The video is gaining traction on social media because Tory Lanez was sentenced to 10 years in prison on Monday for the shooting. According to NBC News, Lanez was found guilty of three felony charges in December 2022: assault with a semiautomatic firearm, carrying a loaded, unregistered firearm in a vehicle, and discharging a firearm with gross negligence. The charges carried a maximum sentence of 22 years and eight months behind bars, and possible deportation to Canada. So ten years was a good outcome for him in that regard, albeit still bad.
The video, which was posted on YouTube in July 2020, was one of the first visuals of what went down on the night of the shooting. It shows Megan Thee Stallion exiting Tory Lanez's car while leaving a trail of blood on the concrete, which was probably coming from her foot. In the video, Megan Thee Stallion is being ordered by police in a helicopter to step away from the vehicle and walk backwards with her hands up. As this was happening, police made Tory Lanez lay face down on the ground and handcuffed him.
Social Media Reactions to Tory Lanez Getting Ten Years in Prison
The video has sparked various reactions from social media users, who have expressed their opinions on the sentencing and the situation. Some people are shocked that Tory Lanez got 10 years, while others are saying that justice is served. Many people are just sad for everyone involved in the situation. Take at look at some posts from X, formerly known as Twitter.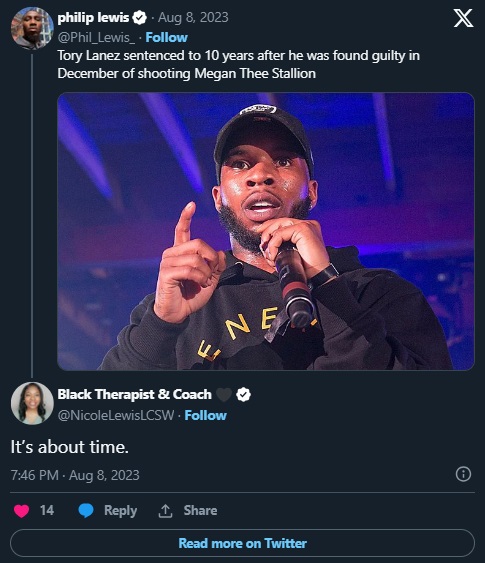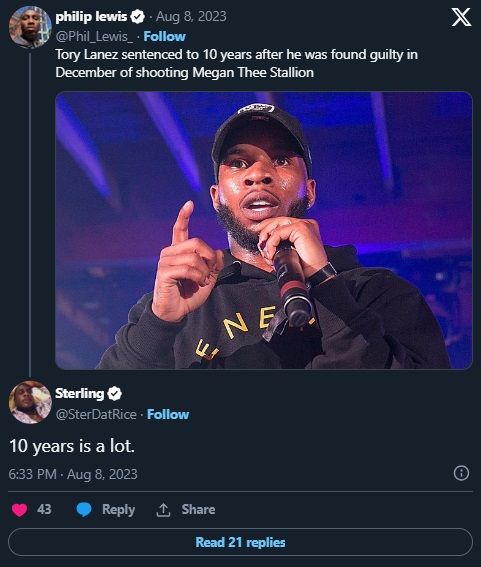 The video of Megan Thee Stallion and Tory Lanez's shooting incident is a reminder of the violence and trauma that can occurred that night, whatever really happened. The case has also raised questions about the role of gender, race, and power in the rap scene.
Will Megan Thee Stallion continue to rise as one of the most influential female rappers of her generation with people knowing she's the reason Tory Lanez is in prison for the next ten years? This is a situation the hip-hop world has never seen a female rapper face.