The naked dead body of a rapper who went by the name Sir Tanky aka @sir_tanky2023 was found naked and stuffed inside a barrel near Malibu beach, sparking a homicide investigation and a wave of speculation on social media. As more details came out it was revealed he is allegedly the brother of Pop Smoke's killer, and Wack 100's reaction is going viral due to his theory about the situation.
Details on How Rapper Sir Tanky's Naked Dead Body was Found in Barrel
Javonnta Murphy, 32, was a local singer-songwriter and hip-hop artist who had posted videos of himself performing his music on Instagram and YouTube. His body was discovered on Monday morning by a lifeguard who pulled the barrel out of the water at Malibu Lagoon State Beach, and opened it due to its suspicious weight.
The barrel that contained Murphy's body was first spotted on Sunday by a maintenance worker who paddled out to it using a kayak, but did not open it. Former Malibu Mayor Jefferson Wagner said he also noticed the barrel on Sunday, but thought it was a toxic waste container.
The barrel was sealed with duct tape and had a metal ring around it, according to photos released by the authorities. It is unclear where the barrel came from and how long Murphy's body was inside it.
The Los Angeles County Sheriff's Department said the cause of death was not yet determined, and the motive behind the murder was unknown. However, some of Murphy's social media posts showed him throwing the Blood Gang sign and using the term "sun blood" in some of his captions, suggesting a possible gang affiliation.
Many conspiracy theories have emerged online, with some people suggesting that Murphy's death was related to gang violence, drug trafficking, or organized crime. Some pointed out that barrels are often used by mobsters to dispose of bodies, as in the case of a murder victim whose remains were found in a drum in Lake Mead last year. These theories coincide with what Wack100 believes went on after he learned of the victim's relation to Pop Smoke's killer.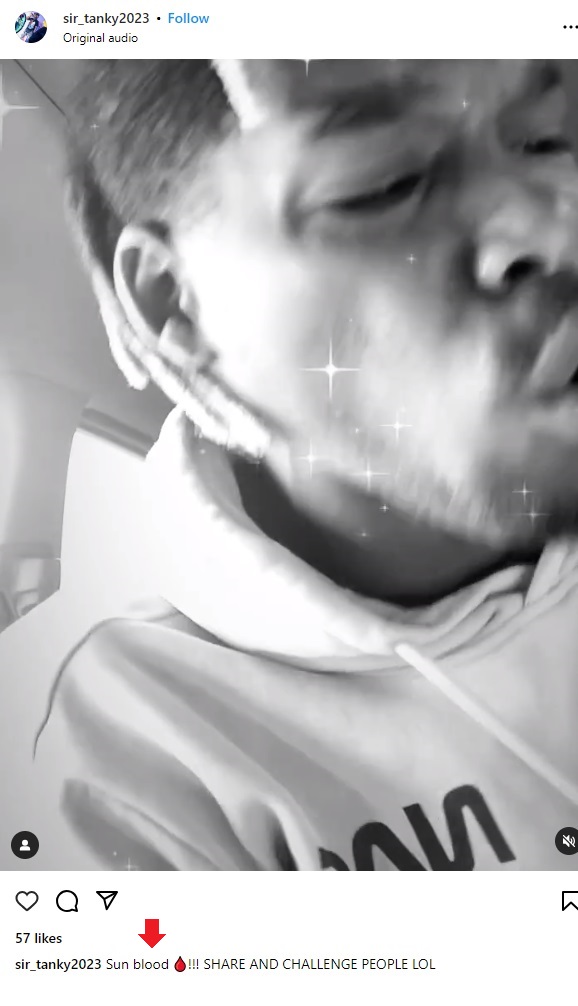 Why Wack 100's Reaction to Learning Sir Tanky Was the Brother of Pop Smoke's Killer is Going Viral
Wack 100 learned that Javonnta Murphy was the brother of Pop Smoke's killer during a Clubhouse interview. While it seemed like he didn't want to say too much, he theorized that the middlemen he believes were involved in Pop Smoke's death may have saw Sir Tanky as a threat for some reason.
He insinuated that these middlemen he's talking about aren't black people, because he kept saying "they don't look like us". Essentially it seems that he does believe it could have been mafia or cartel related, because there is a theory that Pop Smoke's death was actually connected to the Rolls Royce he stole from some very powerful people.
Who Was Pop Smoke's Killer?
According to the Los Angeles Police Department, four people were charged in connection with his murder: Corey Walker, 19, Keandre Rodgers, 18, and two minors, aged 15 and 17. The suspects allegedly broke into the house where Pop Smoke was staying, after seeing the address on his social media posts. They were reportedly looking for his diamond-encrusted Rolex and Cuban-link chain, which they later allegedly sold for only $2,000.
The police said that the suspects were allegedly members of a Los Angeles gang, but they did not think that Pop Smoke's death was related to any gang rivalry or feud. They also said that the suspects did not know Pop Smoke personally, and that they targeted him randomly. As aforementioned most people don't believe Pop Smoke was randomly targeted.
The 15-year-old suspect is accused of being the one who shot Pop Smoke in the chest, after a brief confrontation. The rapper was taken to a hospital, where he died from his injuries. The 15-year-old allegedly confessed to his role in the murder during a recorded interview at a juvenile detention center. It's not clear if the 15 year old is the person who is allegedly Sir Tanky's brother.
Wack 100's reaction has fueled conspiracy theories that the people who possibly put a hit on Pop Smoke are murdering anyone who may have been involved, so police can never connect it back to them.
Essentially it seems Wack 100 doesn't believe Sir Tanky was murdered to get revenge for Pop Smoke, but rather to silence him, because he may have known too much about what happened considering his brother was the killer, or he may have said the wrong things publicly.