Rapper Tory Lanez, who was sentenced to 10 years in prison on Tuesday for shooting and wounding Megan Thee Stallion in 2020, is facing a barrage of mockery and criticism on social media for the way his last tweet aged badly before the verdict. This goes all the way back to fateful 16 days before Christmas.
What Did Tory Lanez Say in His Last Tweet?
On December 7, 2022, Lanez tweeted,
"I'm going to leave this here one more time, and watch how it ages. No weapon formed against me shall prosper, and every tongue that rises against me in judgement shall be condemned. You sit and watch now, and don't ever question the God I serve again. u sit and watch now. This is my last tweet".
His final message on the platform now known as X, was allegedly a reference to a biblical verse from Isaiah 54:17. As you can see Tory told people to watch how his last tweet ages.
However, the tweet did not age well, as Lanez was found guilty of three felony charges in the shooting of Megan Thee Stallion, who was left with bullet wounds in her feet after a party at Kylie Jenner's house in July 2020. According to the Los Angeles County District Attorney's office, Lanez was convicted of assault with a semiautomatic firearm, carrying a loaded unregistered firearm in a vehicle, and discharge of a firearm with gross negligence. He faced a maximum sentence of 22 years and eight months in prison, but the judge gave him 10 years after considering his lack of criminal history and his expressions of remorse.
Social Media Clowns How Tory Lanez's Last Tweet Aged Badly After He Told People To Watch How it Ages
As soon as the news of Lanez's sentence broke out, social media users wasted no time in roasting his last tweet, pointing out how the "weapon" did prosper against him. Some users made jokes about how Lanez would spend his time in prison, and him not being able to tweet for the next ten years. Many users also expressed their support for Megan Thee Stallion, who had testified in court that the shooting had left her traumatized and depressed.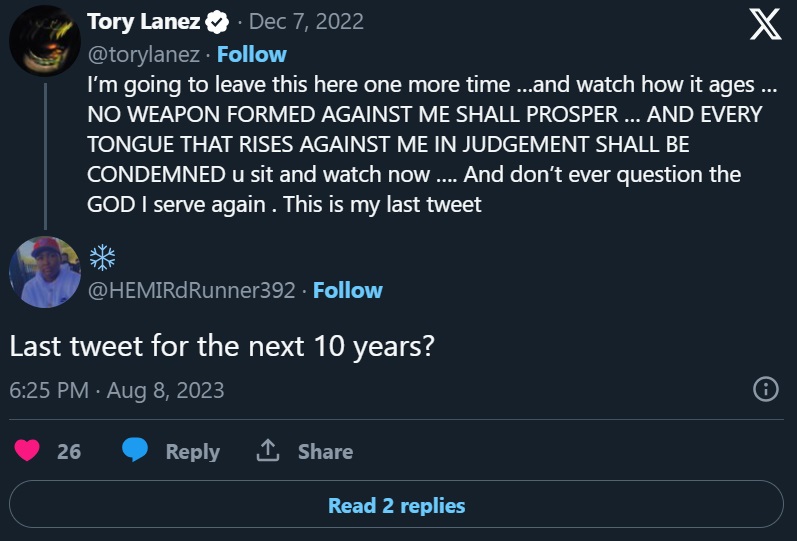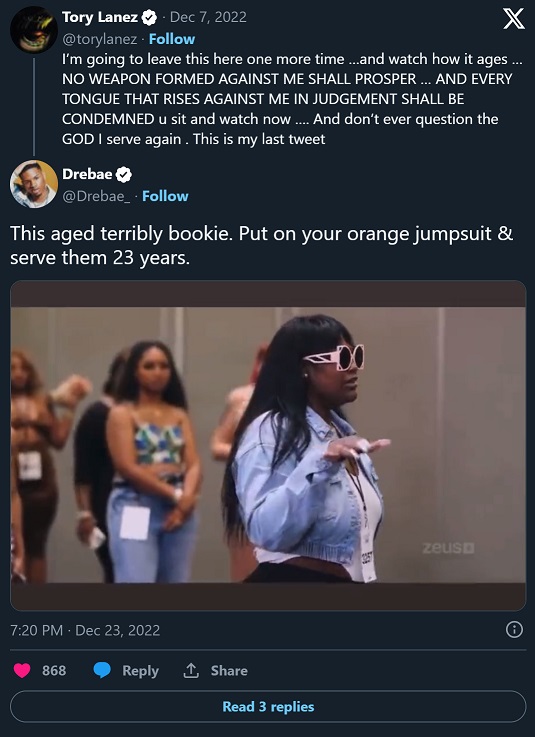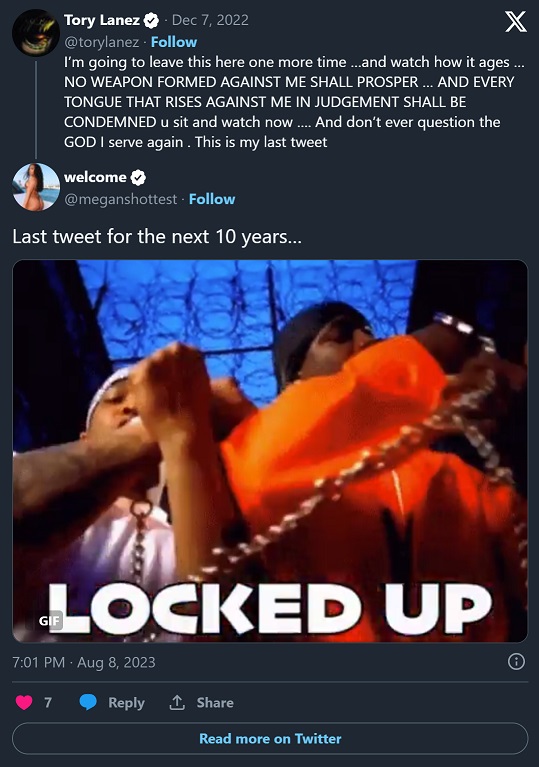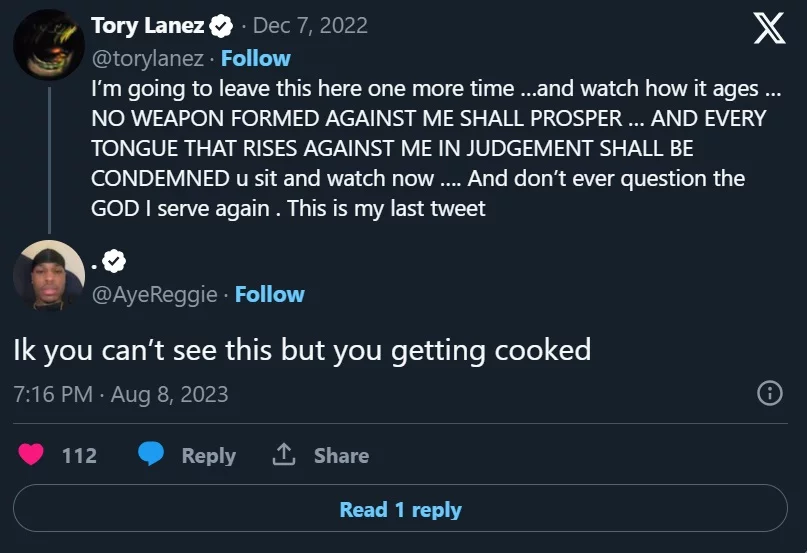 The reaction to Lanez's last tweet shows how ruthless social media can be, especially when it comes to celebrities who are involved in scandals or controversies. While some users may have genuine concerns or opinions about the case, others may just enjoy trolling or making fun of someone who is facing a difficult situation.
Social media can be a powerful tool for spreading information and awareness, but it can also be the stomping ground where people are kicked while they are down. Lanez's last tweet may have been an attempt to show his faith and confidence, but it backfired spectacularly and became a source of ridicule and humiliation.