Ice Spice is an up and coming rapper from the United States who has made a name for herself with her hit single, "Munch". The song is a catchy upbeat bop that has earned her well-deserved recognition and popularity. Her tracks feature an impressive flow, and clever wordplay. In addition to her music, she is an active advocate for mental health and body positivity, using her platform to encourage her fans to be confident and true to themselves. Her talent and enthusiasm for music has made her a star, so it's no surprise her choice of clothing is going viral after Knicks' latest win, and people think she might have been a bit zooted.
The Knicks are currently in the midst of a pivotal point in the season where it appears they have flipped the switch completely. When the season began they looked a bit discombobulated, and seemed to be headed towards a play-in spot battle down the stretch. However, their outlook changed as they began an epic win streak. After destroying the Warriors by double digits, Knicks have won their 8th straight game. Warriors are missing Stephen Curry, but the win was still impressive.
Message on Ice Spice's Shirt During Knicks 8th Straight Win vs Warriors Goes Viral
There's no doubt that Knicks game bring out the stars, and Ice Spice made her presence known in a very bold way. Social Media is buzzing over Ice Spice's Knicks are "Hottest Team in the NBA" t-shirt that was seen in a tweet. While it may seem simple on the surface, the message on her shirt could be considered a double entendre. Knicks are currently on a hot streak in terms of winning 8 straight games, and she could also be saying that she finds the players on the team attractive. Essentially her T-shirt message could be bars.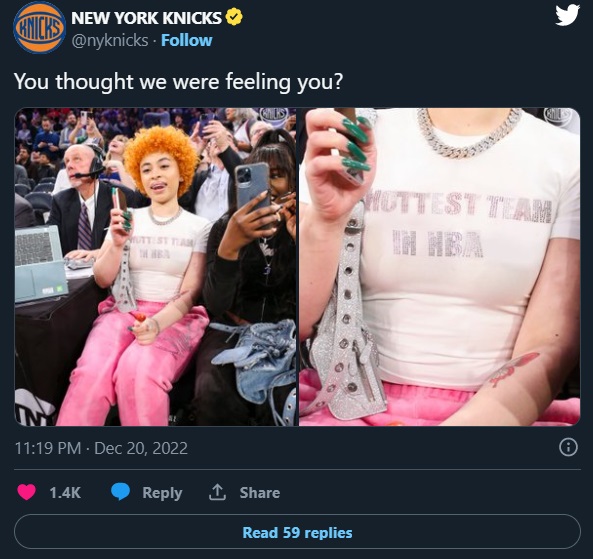 Ice Spice has already sparked Immanuel Quickly "saw them baddies sitting courtside" memes. He finished the game with 22 points on only 10 shots.
December 21, 2022
Was Ice Spice High on Weed During the Knicks Game?
With her outfit going viral people couldn't help but notice that Ice Spice's eyes looked a bit red, and slightly sleepy. Naturally some people believe that Ice Spice was high on marijuana during the Knicks vs Warriors game. Take a look at some of the reactions on social media.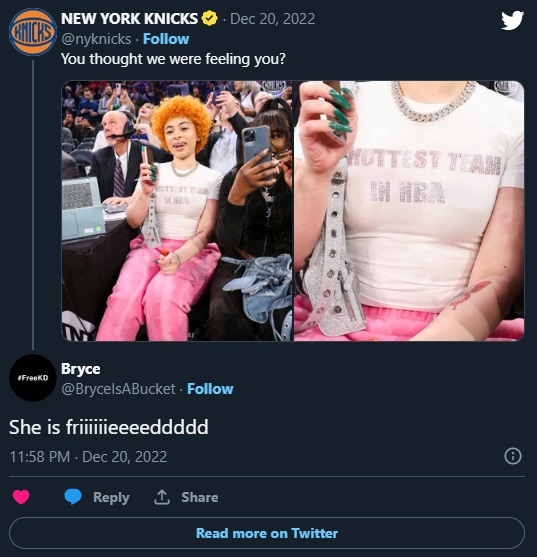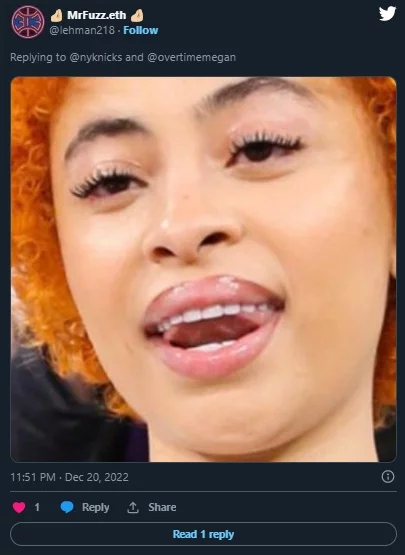 Do you think Ice Spice was under the influence of marijuana during the game, or was it just a case of dry eyes? Weed is legal in New York, so even if she was high she didn't break any laws.
Considering how well they played it's not surprising that some Knicks fans are hoping she becomes at regular at their games. Is the Ice Spice effect a real thing in sports now?