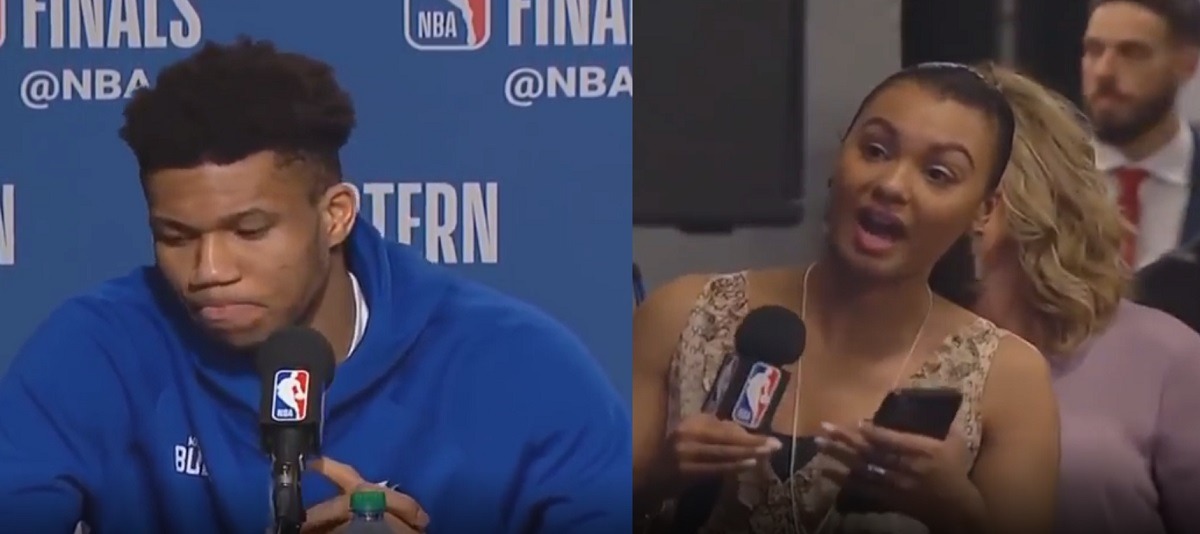 Why Did Giannis Antetokounmpo walk out on Malika Andrews? With Giannis winning a NBA championship, and Malika Andrews hosting the NBA Finals, two people that used to be at odds reached the pinnacles of their careers in the same arena. Just a few years ago the infamous moment happened where Giannis Antetokounmpo walked off on Malika Andrews during a press conference when she asked him a simple question. Here is the alleged story behind that moment.
Why Did Giannis Anteotkounmpo have Beef with Malika Andrews?
As you may or may not know Malika Andrews started her career with ESPN as a reporter covering the Bucks. It's alleged that Giannis found out she released a story about him contemplating with his future with Bucks only a few hours after they had lost Game 6 to Kawhi and Raptors. It's alleged Giannis was angry that Malika Andrews was spreading rumors about him, which would explain why his body language completely changes when he heard her name in the video below.
In the end infamous born where Giannis walked out on Malika Andrews' press conference question. Khris Middleton's reaction is priceless till this day.
In a major twist of fate just two years later the woman Giannis once considered an enemy shared his biggest professional moment with him.
At the time Giannis was beefing with Malika Andrews it definitely did seem like his future with Bucks was uncertain. However, if she did release an article entertaining the topic right after their playoffs loss it's understandable that he was a bit upset about it.
Although Giannis walked off on Malika Andrews, he didn't walk out on his Bucks teammates. He signed a contract extension, which led to a championship, and Malika reaching the pinnacle of her ESPN career.
Everyone won in the end, except for the Suns of course.
Author: JordanThrilla Staff