Timeout, Celtics and Lakers both down 3-0 in the playoffs? Possibly one game away from a Denver Nuggets vs Miami Heat NBA Finals? Are we in an alternate universe where the basketball gods are trolling people? There isn't a soul alive that could have predicted this is where would be with a week left in May, but here we are.
Celtics Fans are Calling For Joe Mazzulla to Be Fired
Lakers and Boston both find themselves in a deep 3-0 hole, but their situations have much different circumstances. In Lakers' case they have the excuse of Lebron playing with a torn tendon in his foot, along with an ankle that allegedly needs surgery.
They have already overachieved this season considering they began their campaign 2-10, and were given a 0.3% chance to make the playoffs. The fact they were able to defeat both the Grizzlies and Warriors in 6 games is amazing. Not to mention that Nuggets were the first seed in the West this season.
Celtics being down 3-0 is much more peculiar for many reasons. The two core superstars of their team are in their prime, and healthy. On paper they have a much deeper roster than last season, including 6th man of the year. Their opponent is a Heat team comprised of multiple undrafted players, and also missing both Victor Oladipo and Tyler Herro. Ironically the undrafted Gabe Vincent dropped 29 on them leading his team to the historic win.
When the environment to win has all the elements that work in your favor and you're still losing, that could theoretically be a sign of a leadership issue. Enter Joe Mazzulla, a man tasked with replicating what Ime Udoka was able to acheive just a season prior. He had some big shoes to fill, which also comes with more criticism.
Just a few days ago Joe Mazzulla got angry when a reporter allegedly suggested that Celtics were underprepared for the Heat. Now 3 days later Celtics once again appeared to very underprepared, or just mentally defeated. During his press conference Mazzulla broke the internet when he said, "I didn't have them ready to play. That's on me". Not surprisingly now many Celtics fans want Joe Mazzulla fired. They believe his leadership is a big part of their current woes. Would the Celtics really give him the axe after only one season at the helm?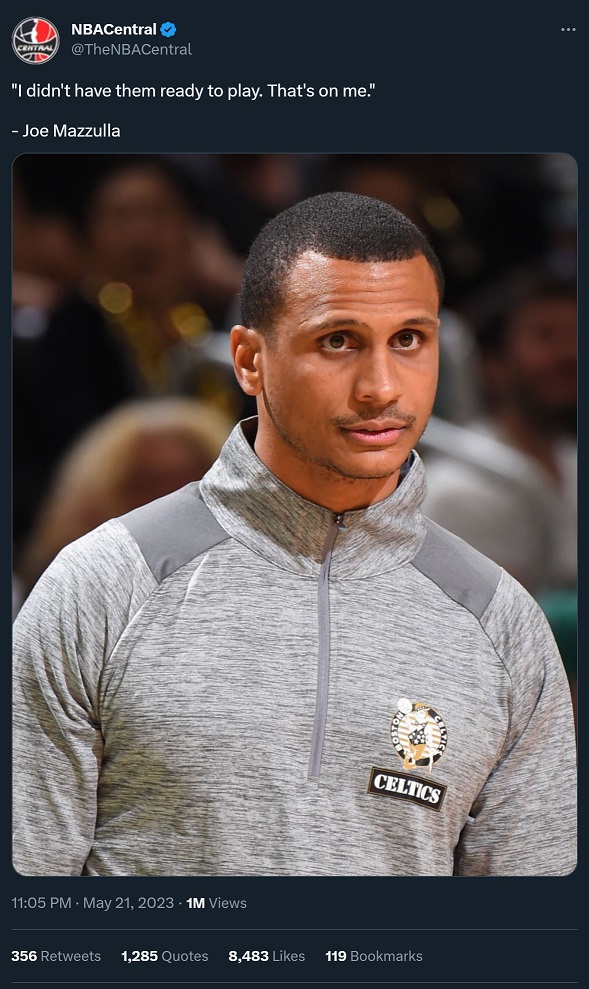 No team in NBA history that went down 3-0 in a series was able to overcome the deficit. However, if there was any time where that record seemed most likely to be broken, it would probably be right now. Both Celtics and Lakers are more than capable of beating their opponents 4 times in a row if they truly mentally and physically lock in. Don't be surprised if you see one of them advance to the Finals.