When you think of Chicken Chick-Fil-A is one of the first fast food restaurants that comes to mind. Their chicken sandwiches with that one pickle in the center, and legendary lemonade hit the spot for millions around the USA everyday. However, there is one thing that has always been missing from their menu, but that might be changing very soon and it could spell trouble Rick Ross' Wingstop business.
Will New Chick-Fil-A Lemon Pepper Chicken Wings Put Rick Ross' Wingstop Out of Business?
According to reports Chick-Fil-A wings have entered a beta testing phase. At the moment the only way you can order Chick-Fil-A chicken wings is by going to their locations in Nashville. However, they will allegedly expand their beta testing to the Atlanta area as well before deciding if it will become a regular item on nationwide menus.
At the moment Wingstop holds the crown for fast food chicken wings, but that could all change with Chick-Fil-A wings becoming an option.
Based on viral photos the Chick-Fil-a wings are lemon pepper flavor, and made very crispy. When you order you get 8 pieces in a black container. The receipt has them labeled as 'Traditional Bone-in-Wings, 8 count with lemon pepper seasoning'. It's not clear if there are more flavor options available. Of course it was Wingstop that made lemon pepper Chicken wings famous, so Chick-Fil-a is clearly taking advantage of that by making their own version. Take a look.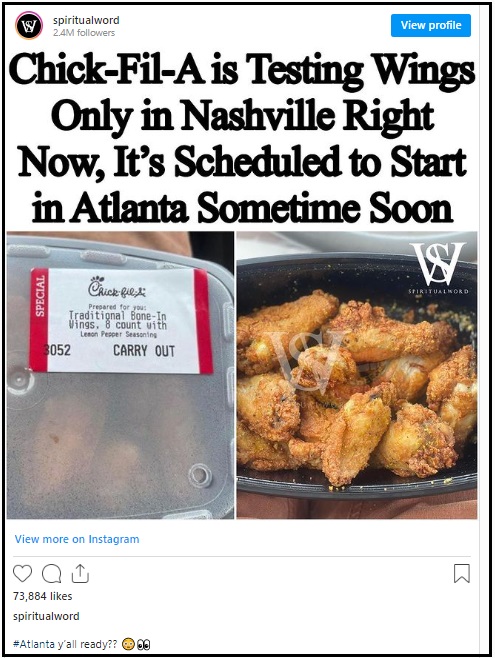 If you see a Chick-Fil-a serving lemon pepper wings right beside a Wingstop, which one would order from? For many people the answer would be Chick-Fil-a, which is why Wingstop could be in serious trouble if this actually becomes a normal part of their menu. It's really surprising that it took this long for Chick-Fil-a to start offering wings, but maybe there is a logistical reason behind that.