Ever since the COVID-19 pandemic began the social media war between anti-vaxxers and pro-vaxxers continues to rage on years later. The tension between these two groups reached unprecedented levels when Joe Biden tried forcing people to get vaccinated with policies that were deemed illegal by the Supreme Court. Still yet individual companies have the right to create vaccine mandates, which has landed Tim Hortons at the center of a major controversy.
Details on why Hashtag #BoyCottTimHortons 'Boycott Tim Hortons' is Trending Worldwide
Tim Hortons is holding a camp for underprivileged kids, some of which are allegedly immunocompromised. In order to be eligible to attend this camp Tim Hortons is mandating that your child has to be vaccinated. This is controversial for many reasons, with the main reason being the safety of mRNA vaccines is still up for discussion, especially with all the side-effects that were revealed in the FOIA Pfizer Vaccine Clinical Trial documents released by the FDA under a court order. In addition it's been proven that the COVID vaccines are not effective in stopping the spread of COVID. Naturally people are not happy that Tim Hortons is discriminating against unvaccinated children, which is why the hashtag #BoycottTimHortons "Boycott Tim Hortons" is trending worldwide.
Anti-Vaxxers and Pro-Vaxxers React to 'Boycott Tim Hortons' Hashtag Trending Nationwide
With the 'Boycott Tim Hortons' movement catching steam on social media it's no surprise that there are very stark differences in how anti-vaxxers and pro-vaxxers are reacting to the controversy. As you'll see in the tweets below pro-vaxxers stuck to their usual rhetoric of touting how the vaccine protects immunocompromised people. On the flipside anti-vaxxers stuck to their rhetoric of saying how unethical it is to force children to get vaccinated with a vaccine that doesn't actually stop the spread of COVID just to attend the camp. Who's right and who's wrong here? Take a look at some viral reactions with the hashtag #BoycottTimHortons.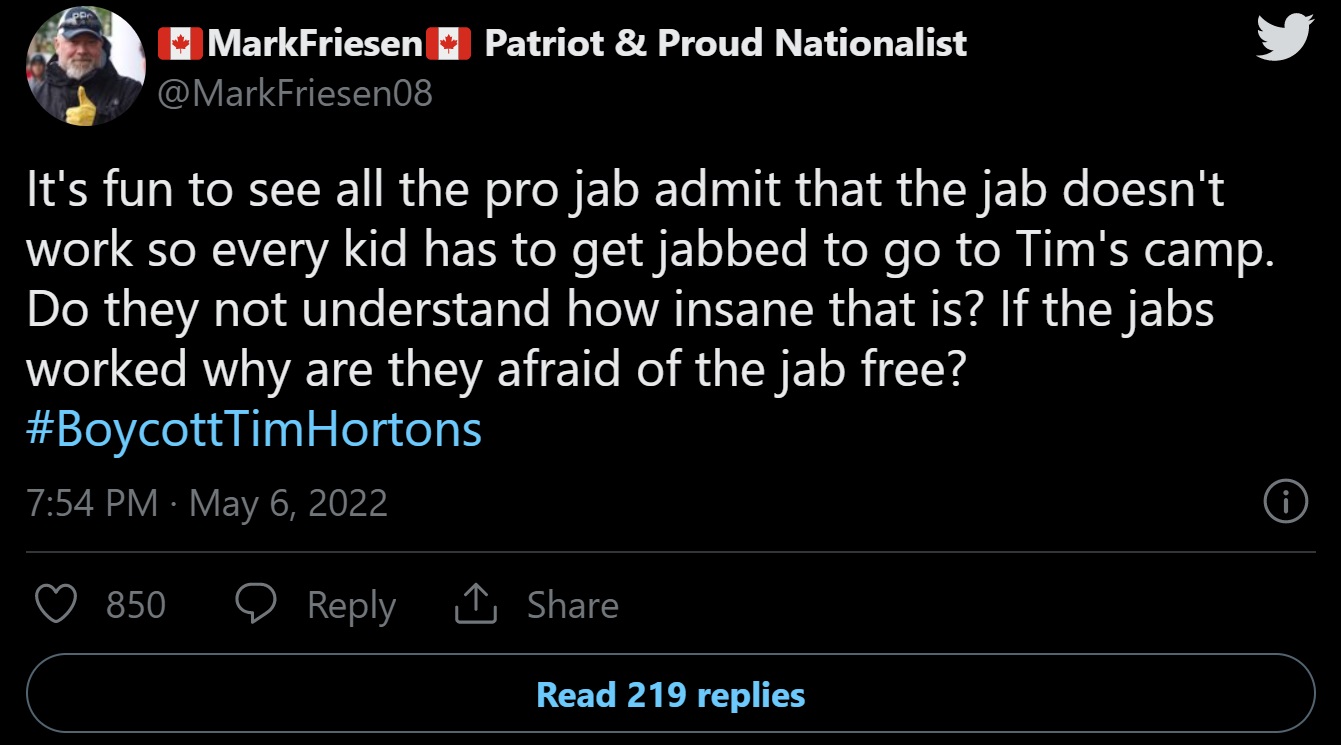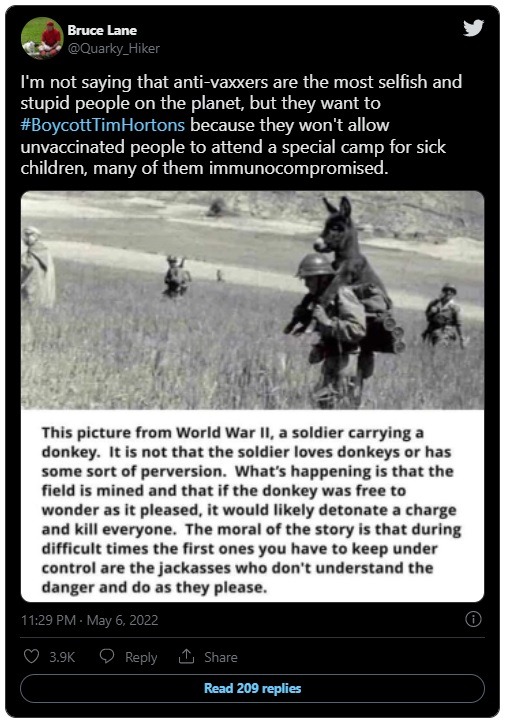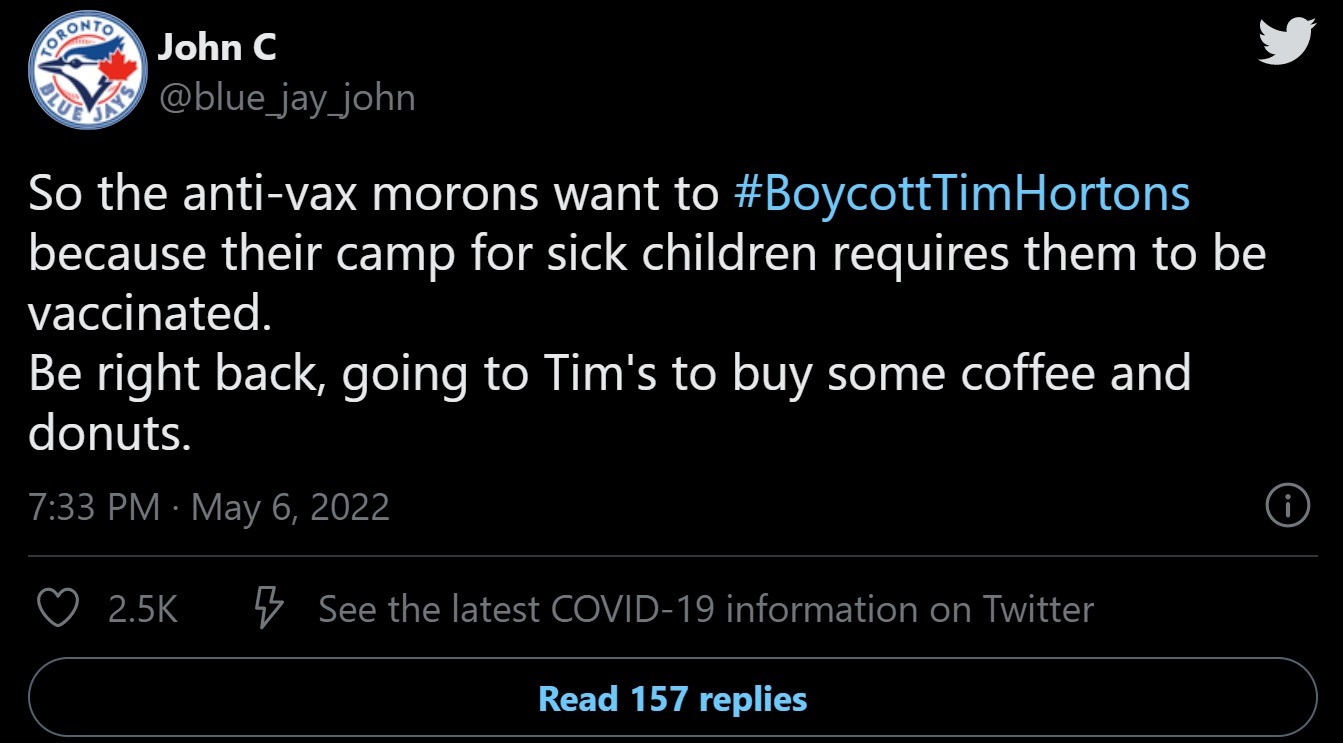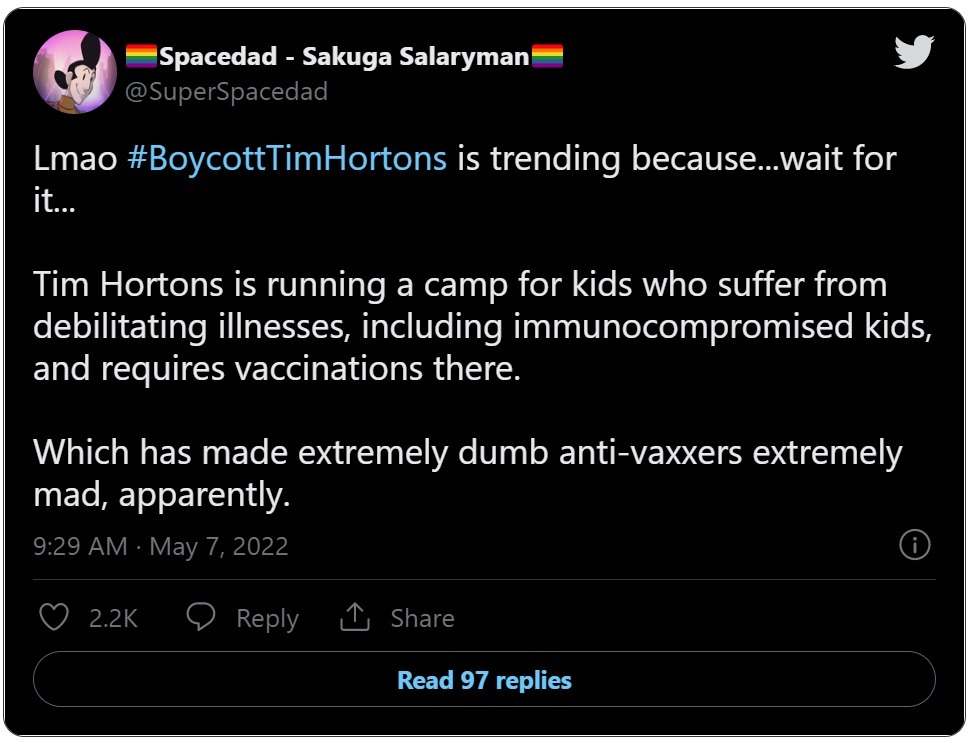 One thing that doesn't make sense to many people about vaccine mandates like what Tim Hortons has in place is the lack of leniency for a unvaccinated child who doesn't have COVID. If an unvaccinated child tests negative for COVID-19, then how would they be more of a risk than a vaccinated child who also tested negative?
Perhaps they should have just enforced a face mask policy as well, and stringent COVID testing during camp. Those two things would probably keep the kids much safer than being vaccinated, while keeping both pro-vaxxers and anti-vaxxers somewhat happy.