What Does Being a "Foster Girlfriend" Mean?
In recent years, a new viral term has been trending around the popular social platform TikTok, the "foster girlfriend" trend. The term "foster girlfriend" generally refers to a woman who dates men until they find their "forever home", or the girl they wish to marry. Put simply, it is a woman who dates a man while he is still searching for the girl he will spend the rest of his life with.
How Women are Reacting After Learning the Meaning of the "Foster Girlfriend" TikTok Term
Around the social media world, many women have been expressing their feelings about this viral term, with some realizing they were "foster girlfriends" all along at least by definition. They discuss the feelings of being used for a time, and of being left behind once the man finds the one he wishes to marry, or be with forever.
In addition to discussing the depressing emotional effects of being a "foster girlfriend", many women are raising awareness of the complex nature of modern relationships. They discuss the importance of communication in relationships, of understanding one's own worth, and of being respectful of other people's desires. They also talk about the need for healthy boundaries, especially when one's feelings are involved.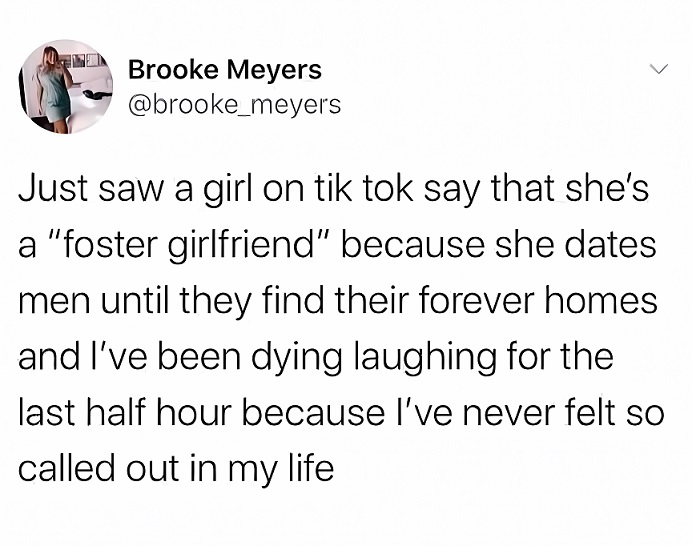 While some people may argue that this trend is wrong, or should not be encouraged, it is important to recognize that it is a reflection of the reality of modern relationships. Many women on TikTok are simply raising awareness of the fact that relationships are complex, and that sometimes people are forced to take a step back and take the time to figure out what we want.
At the same time some critics argue that no woman should ever label themselves as a "foster girlfriend", because that could entail feelings of not being worthy of the "forever home" status.