Bad Bunny shocked the world when he started doing an impromptu performance in the middle of traffic in Bronx. Bad Bunny performing on a Bus in Bronx New York is going viral. The performance was so organic that Bad Bunny was ducking traffic lights and tree limbs, while performing on a moving bus.
The moment instantly went viral on social media, and people start posting footage from Bad Bunny's Bronx New York performance.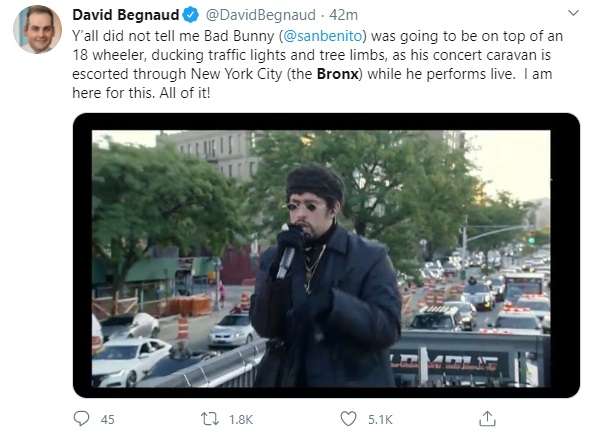 Not too many artists would think of doing something like, because it take an incredible amount of confidence and talent. You can't be afraid of things going wrong, since there was no rehearsing before the performance. The epitome of believing in your true talent.
Bad Bunny could of easily misjudged his timing and got hit by one of those traffic lights or tree limbs. This is proof he is willing to take dangerous risks to give his fans a great show.
Bad Bunny performing on bus in Bronx is another legendary moment in his career.
Author: JordanThrilla