Los Angeles Lakers suffered a blowout loss to the Portland Trail Blazers, and many Lakers fans took to social media to express their displeasure with the team. One Twitter user posted screenshots of deleted tweets allegedly written by two crazy Lakers fans that contained highly inappropriate content wishing death upon Darvin Ham and his family.
Did Lakers Fans Wish Death and Harm Upon Darvin Ham and His Family in Deleted Tweets after Lakers Loss to Blazers?
Many Lakers expressed how they felt that Ham's inability to make quick adjustments during the game was partly to blame for the loss, particularly on the defensive end. To the disbelief of many in the postgame press conference, Ham claimed that the Lakers had put together a great defensive performance against the Blazers' three-point shooting, citing the team's number one ranking in defensive shot quality according to the analytical data at halftime. This statement only further angered Lakers fans, as Blazers hit 17 threes in the first half alone.
In one tweet, an alleged Lakers fan wrote: "F*** Darvin Ham, I hope his Family Dies". In another, a different alleged Lakers fan wrote: "I genuinely hope Darvin Ham dies. If he got family they can all go too. He deserves to be tortured and set on fire while watching his daughter get r@ped and murdered". These statements have been widely condemned by NBA fans around the world, who argue that the alleged Lakers fans have gone too far in their comments. It's also possible that these tweets are fake photoshops, so the situation should be taken with a grain of salt.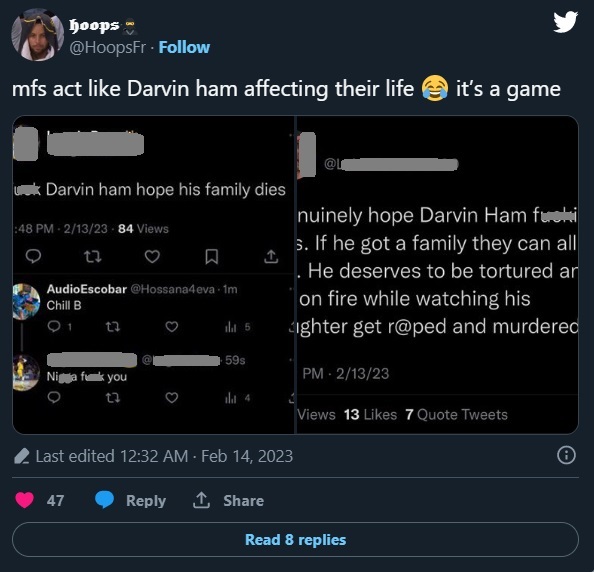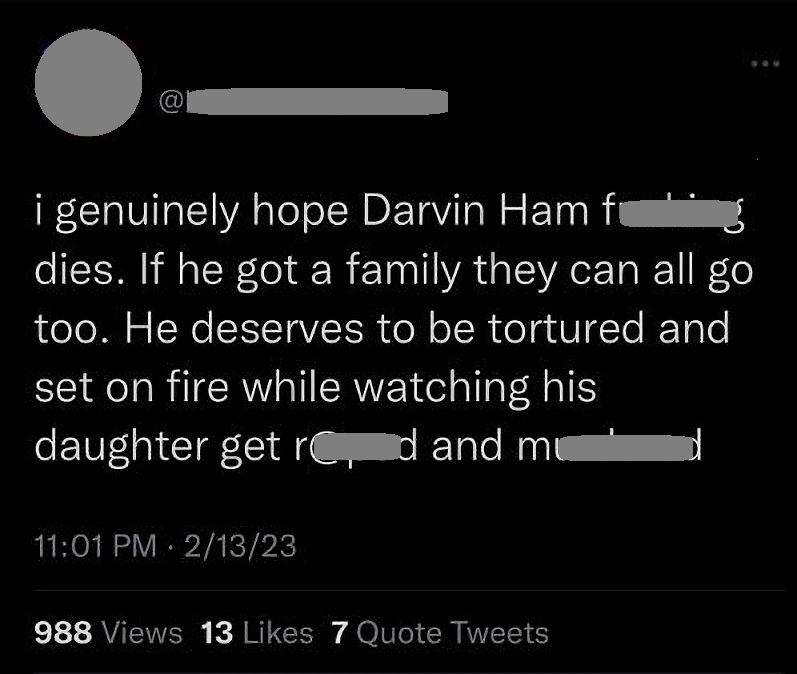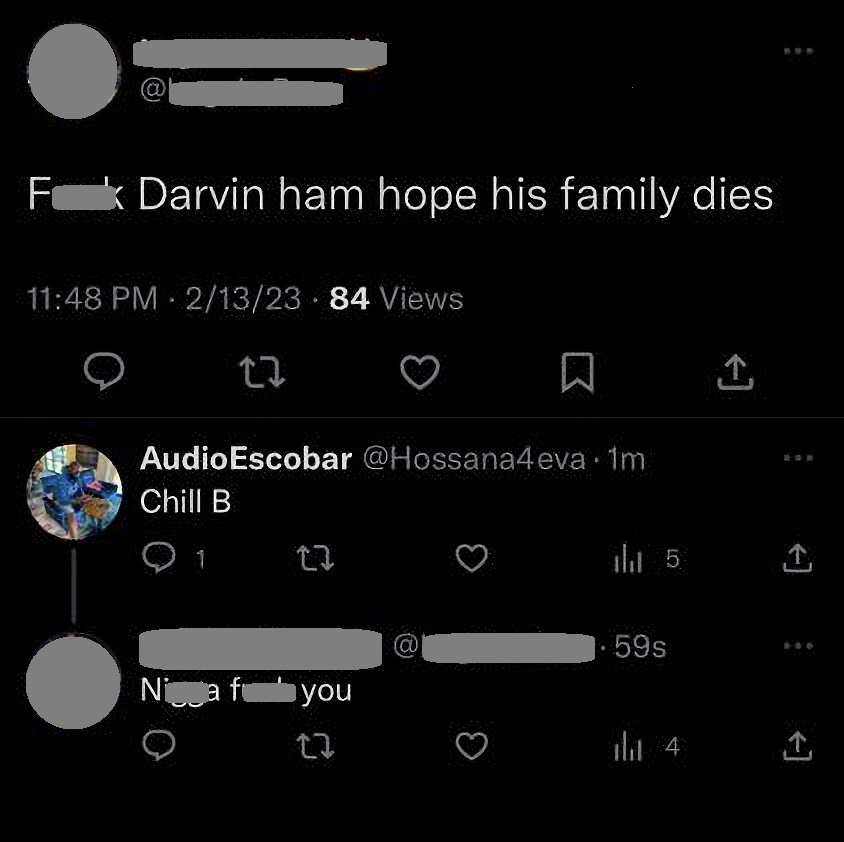 Rob Perez Exposes Darvin Ham's "Number 1 Ranked Defensive Shot Quality" Comment with Video of Blazers 17 First Half Threes Against Lakers
Lakers fans are really dissecting Darvin Ham's comment from the postgame interview above where he says, "We checked the analytical data at halftime, and according to that data on our defensive shot quality, we would have been number one in the league". Rob Perez put together a video of the 17 threes Blazers made in the first half. The footage makes it clear how wide open they were on many of them contrary to what Darvin Ham said the analytics showed.
Could this be one of the rare cases where the numbers are lying, and eye test is telling the truth? Jay Z told us "men lie, women lie, numbers don't", but this could be proof there are outliers.