The Atlanta Hawks pulled off a stunning comeback against the Boston Celtics in Game 5 of their first-round playoff series on Tuesday night, thanks to a clutch three-pointer by Trae Young with a few seconds left. The shot gave the Hawks a 119-117 win and forced a Game 6 back in Atlanta on Thursday night, and also made a Janet Jackson scheduling conflict go viral.
Why Did Hawks' Arena Schedule a Janet Jackson Concert on the Same Day and Time as Game 6?
While Hawks fans were celebrating their team's resilience and Young's heroics, some conspiracy theorists were busy pointing out a suspicious coincidence involving State Farm Arena, the Hawks' home venue, and Janet Jackson, the pop star who was scheduled to perform there on Thursday night.
These theorists believe that State Farm Arena expected the Hawks to lose the series in five games, because they booked Jackson's concert for Thursday night, around the same time that Game 6 would take place if they had won Game 5. However, after Young's game-winner, State Farm Arena announced that they had rescheduled Jackson's concert for Friday night at 7:45 PM.
On their website, there is a message that says, "The Janet Jackson concert previously scheduled for Thursday, April 27 has been rescheduled for Friday, April 28 at 7:45 PM. If you have tickets to the original show date, they will be honored for Friday's date". Essentially his game winning shot directly impacted both Hawks fans, and the Janet Jackson hive.
The conspiracy theorists claim that this proves the city of Atlanta and State Farm Arena had no faith in the Hawks, and were predicting that they would lose when they scheduled Jackson's concert. They also argue that this creates a logistical nightmare for the arena staff, which could further prove how certain they were about Hawks' demise when creating the schedule.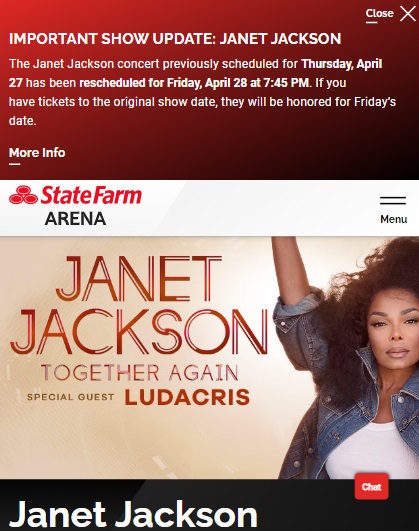 Of course, there could be other explanations for why State Farm Arena scheduled Jackson's concert for Thursday night. Perhaps they were following the odds, which favored the Celtics to win the series in five games. Perhaps they were trying to maximize their revenue by hosting two popular events in one week. Luckily they had a contingency plan in place, but it remains to be seen how Jackson fans who bought tickets will feel.
Despite the possible scheduling disrespect from their own city, the Hawks have shown that they are a resilient and talented team that can compete with anyone in the league. Young has been sensational throughout the series, averaging 29 points, 4 rebounds and 10 assists per game, which almost doubles his playoff scoring average from last season. He has also proven once again that he can deliver in clutch situations, as he did in Game 5.
The Celtics, on the other hand, have been prone to collapses at the strangest times all season, as they showed in Game 5 when they blew a double digit lead in the fourth quarter. They will need to regroup, and play with more urgency and focus if they want to avoid a Game 7. A few bad decisions is what opened the door for this series to extend.
Game 6 will be an exciting and intense matchup between two teams that have fought hard all season long. It will also be a test of who can handle the pressure, but at this point Hawks are playing with house money. It's possible even their own city had no expectations for them.