A shocking revelation has rocked the nation as a rumor claimed that cocaine was found at the White House. According to the report, an anonymous source told multiple news outlets that a small amount of the illegal drug was discovered in a bathroom used by staff and guests of the president. The source also said that the drug was quickly removed, and that no one has been arrested or questioned in connection with the incident.
The White House has not confirmed or denied the report, but issued a statement conveying that it takes drug abuse seriously and that it has a zero-tolerance policy for any illegal substances on its premises. According to reports the White House conducts regular drug tests for its employees, and anyone who fails or refuses to take them is allegedly subject to disciplinary action.
The report has sparked a fierce debate among politicians, pundits, and the public. Some have called for a full investigation into the matter and demanded accountability from the president and his administration. Others have questioned the credibility of the report, and accused networks of spreading fake news and trying to undermine the president's agenda. However, many conspiracy theorists believe that Hunter Biden is connected to this scandal, and they feel a recent July 4th video is more proof of that.
Details Behind the Conspiracy Theory that Hunter Biden was Sniffing Cocaine on Live TV While Hiding Behind Joe and Jill Biden
On July 4th, Joe and Jill Biden made a public appearance at the White House, which also included members of their family. In the CSPAN footage Hunter Biden can be seen standing behind his parents, but did something very strange that caught the attention of eagle-eyed viewers, which has sparked a new debate.
When you watch the video closely, you'll notice Hunter Biden hides behind Joe Biden for a split second, and appears to raise his hand near his face before wiping his nose. Conspiracy theorists believe that Hunter Biden was sniffing cocaine on Live TV inside the White House with children right beside him. In addition people believe he looked to be under the influence of coke, because his eyes looked a bit too wide open, and he was moving in a very fidgety manner.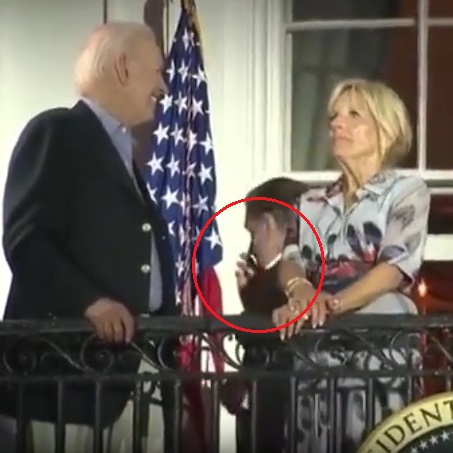 Hunter Biden has a history of drug use that has been widely reported by the media. He was discharged from the U.S. Navy in 2013 after testing positive for cocaine, and he admitted to struggling with addiction for most of his life. He also faced a federal criminal investigation for purchasing a gun while being a drug user, which is illegal under federal law.
In addition, he allegedly returned a rental car in Arizona that contained a cocaine pipe, according to a 2016 police report. Hunter Biden has spoken openly about his substance abuse problems and his efforts to seek treatment and recovery. His past has made the conspiracy theories surrounded the footage above more believable on social media.
The cocaine scandal is the latest in a series of controversies that have plagued the White House in recent months. The president has faced criticism for his handling of the pandemic, the economy, foreign policy, and social issues. He has also been accused of corruption, nepotism, obstruction of justice, and abuse of power by his opponents.
The president's supporters have defended him and dismissed the allegations as baseless and politically motivated. They have also praised him for his achievements and his leadership in challenging times. They have expressed confidence that he will overcome the obstacles and win re-election in 2024. Still yet the question remains, how did cocaine get inside the White House?