Drake Allegedly Betrayed Toronto Raptors and Had Kawhi Leonard and Paul George Meet at His House twice, before they signed with Clippers. Drake becomes the Tekashi 6IX9INE of the NBA.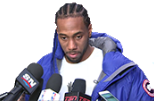 It was revealed that Kawhi Leonard and Paul George met at Drake's Hidden Hills LA House twice, before signing with Clippers in a new interview with ESPN. Today is a tough day for Toronto fans.
Essentially people now believe Drake's house is what birthed the current Clippers team. Drake is currently the ambassador of the Toronto Raptors. Many are confused at the situation, and are speechless.

Sad situation for Raptors fans if true. In this situation, the writing was on the wall anyway. Most people where 100% sure Kawhi was going to sign with team in his hometown of LA.