Fans are cancelling Westside Gunn for a transphobic diss towards Caitlyn Jenner. Westside Gunn posted a tweet calling Kanye West a genius, but took a step further when he said Kanye's kids have to call their grandfather Bruce Jenner "Grandma". Westside Gunn was referring to Bruce Jenner becoming the transgender woman Caitlyn Jenner.
He didn't stop there, Westside Gunn also said "Grandma got covers and person of year awards", then added a facepalm emoji. Westside Gunn was referring Caitlyn Jenner getting person of the year for changing genders. Many people apparently took his subliminal comments has hateful rhetoric, and a wave of backlash ensued.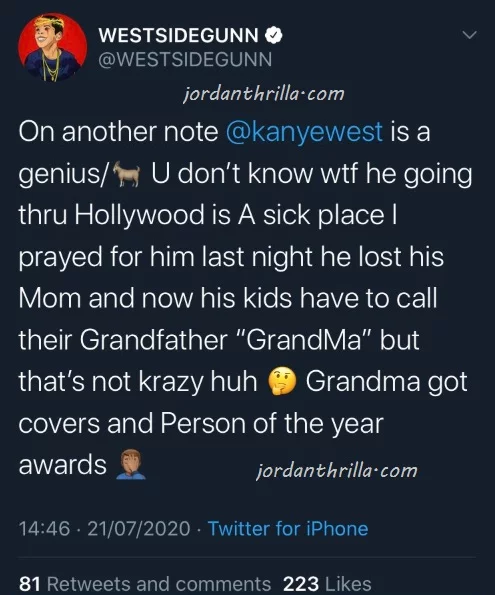 Naturally when Westside Gunn realized he offended many people, he quickly deleted the tweet. However, people had already screenshotted the tweet, and it was already going viral. Westside Gunn is almost 40, so his comments aren't surprising.
Many older people don't agree with the growing trend of people being celebrated for changing their god given gender. However, he clearly made a mistake by voicing his opinion in a way that could be considered disrespectful, and a verbal attack on Caitlyn Jenner's lifestyle.
Now many people believe when Westside Gunn dissed Caitlyn Jenner, and may have committed career suicide. Only time will tell if that is true.