When news broke today that Lil Reese was shot at a parking garage in downtown Chicago, it was inevitable that Tekashi69 would chime in on the situation in the most disrespectful way possible. He did just that when Tekashi 6IX9INE started a GoFundMe for Lil Reese to help him buy a car with a modest goal of $2,000.
In the caption of his post announcing the Lil Reese GoFundMe Tekashi69 wrote, "What happened today was not funny. Let's chip in and help him buy his own car". In a second post he wrote, "Pray for him, He stole the wrong person car today". In essence Tekashi 6IX9INE is saying Lil Reese got shot for stealing someone's car, a fancy way of insinuating he's broke.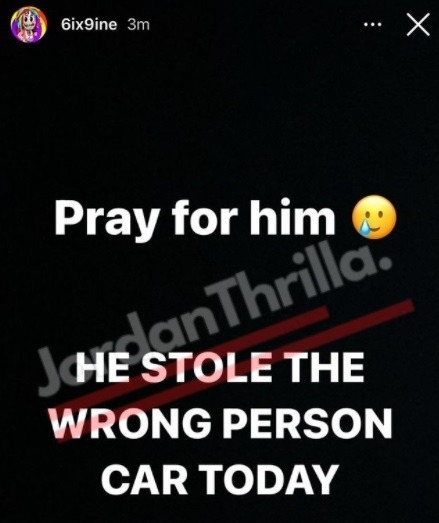 The viral video above showed the aftermath of the Lil Reese shooting at the parking garage located near Dearborn and Grand Street. According to reports the suspects tried to carjack Lil Reese or someone he was in a car with at the Self Park garage in Chicago after a possible drug deal gone wrong. People recording the video claimed they heard several gunshots go off.
Lil Reese must have someone watching over him, because this is the second shooting he has survived in a short period of time. It's sad to see Tekashi69 making light of the situation.
Author: JordanThrilla Staff