Drake fans were ecstatic when the Canadian rapper announced his 2023 It's All a Blur tour with 21 Savage, following their collaborative album Her Loss. The tour will span 29 dates across North America, from June to September, and will feature some of Drake's biggest hits as well as new songs from his latest project.
However, not everyone was happy with the ticket prices for the highly anticipated tour. Many fans took to social media to complain that the tickets were too expensive, especially for regular seats and nosebleed seats. People on Twitter are claiming that ticket prices were going for as much as $1,000 when they trying securing a seat. Others claimed they had to pay $450 for nosebleed seats at the Wells Fargo Center tour date on July 31. Some fans compared these prices to Drake's previous tour with Migos in 2018, which had tickets starting at $49.50.
These prices could possibly be due to reseller sites like SeatGeek, where people can sell tickets for much higher than their actual price. Some fans joked that they would have to sell their organs or rob a bank to afford Drake's tickets, while others said they would rather save their money for other things. Some fans also questioned why Drake needed to charge so much for his tickets when he was already one of the richest rappers in the world. Other said they would need to be sitting in Drake's lap before shelling out $1k for his concert.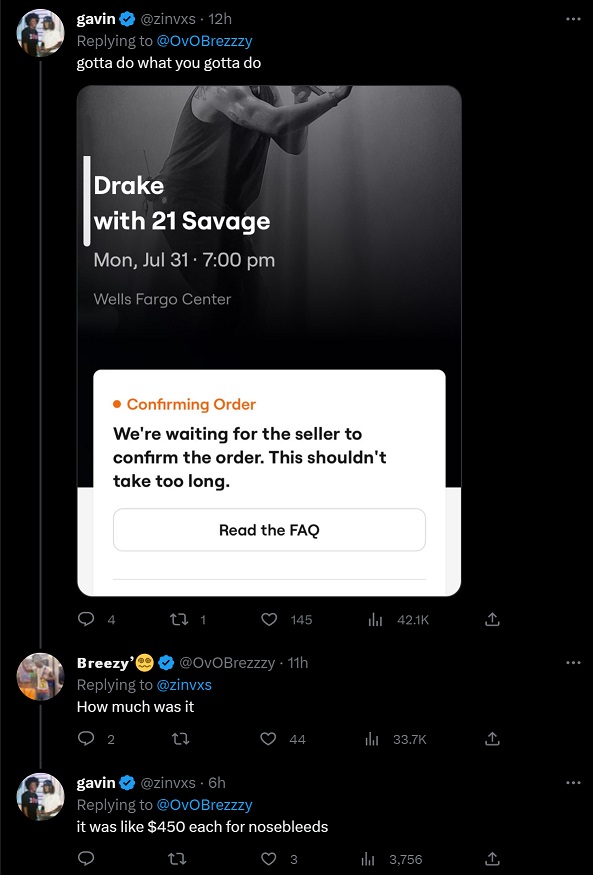 Drake has not responded to the criticism over his ticket prices yet, but he did express his excitement for the tour in a podcast appearance last year. He said: "Ah, man, I can't wait to see the people. It's different when you're performing, you look out in the crowd, someone locks eyes with you and you can just tell it's a moment".
Drake is known for putting on spectacular shows with elaborate stage designs and special effects. He is also one of the most popular and influential artists of his generation, with multiple Grammy awards and Billboard chart records under his belt.
However, some fans feel that he is taking advantage of his loyal fanbase by charging exorbitant prices for his tickets. They argue that he should make his shows more accessible and affordable for everyone who wants to see him live.
What do you think? Are Drake's "It's All a Blur" ticket prices fair or too expensive? Would you pay hundreds or thousands of dollars to see him perform?