Yo Gotti has sparked outrage among some fans for releasing new music on Young Dolph's birthday, which they see as a sign of disrespect to the late rapper. Young Dolph, who was shot and killed in November 2021, would have turned 37 on July 27, 2023. Yo Gotti, who had a long-standing beef with Young Dolph, dropped some new music on the same day.
Many fans took to social media to express their anger and disappointment at Yo Gotti's move, accusing him of being insensitive and petty. Some even vowed to boycott his music and support Young Dolph's legacy instead. For example, @macmemphis66 tweeted: "Gotti dropping some s* on Young Dolph's birthday of all days, and Friday is right there. Mane I'll never listen to that bulls****" .
Yo Gotti and Young Dolph had a bitter rivalry that spanned over a decade. The two rappers were once affiliated, but their relationship soured over business disputes and personal issues. They exchanged several diss tracks and insults over the years, and their feud escalated to violence on several occasions.
In 2017, Young Dolph was shot multiple times in Los Angeles and survived. He later claimed that Yo Gotti was behind the attack, which Yo Gotti denied. It was also alleged that Young Dolph smashed Yo Gotti's baby mama at some point. These two were almost never on good terms it seems like, and even after Dolph's death, there still seems to be no love lost.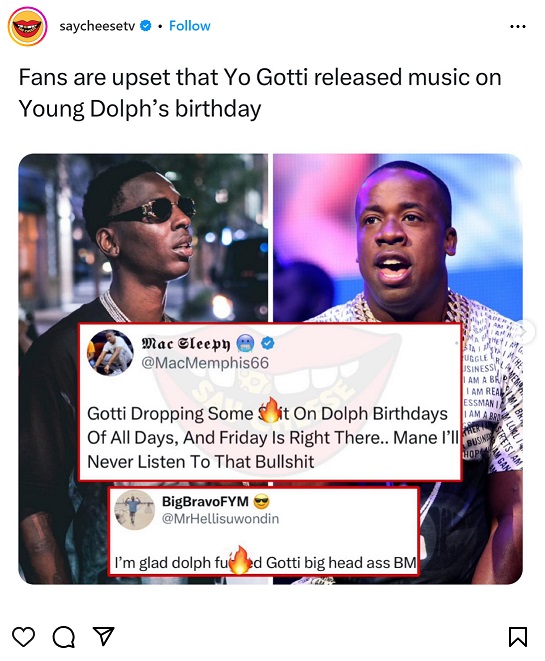 It's honestly surprising that people are shocked that Yo Gotti would release music on Young Dolph's birthday considering they were enemies. If it were the other way around Dolph would probably do the same thing if he was living, and Yo Gotti was dead. Still yet, it would have been nice to see Yo Gotti wait till Friday before releasing that music.