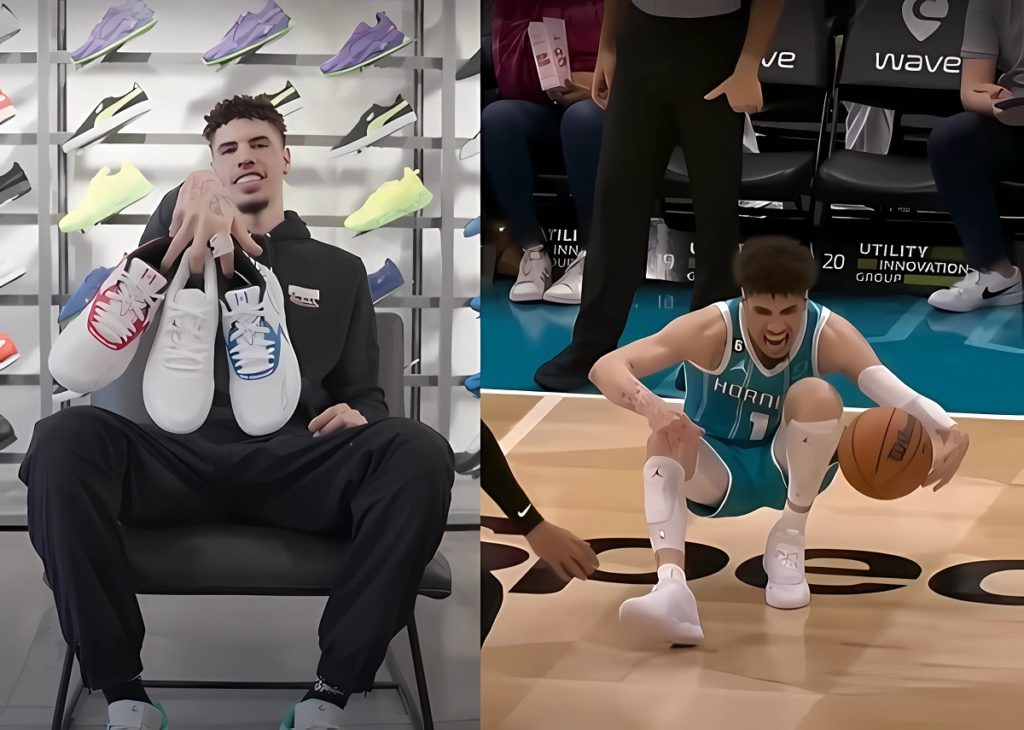 Lamelo Ball, the star point guard of the Charlotte Hornets and one of the leading candidates for Rookie of the Year, suffered a devastating injury on Feb. 27 that could end his season prematurely. Ball fractured his right ankle during a game against the Detroit Pistons, when he planted his foot awkwardly and fell to the floor without any contact . He was immediately taken to the locker room for an X-ray, which confirmed the fracture. He is expected to miss the remainder of the season, leaving a huge void for his team and fans.
Why are Conspiracy Theorists Blaming Puma Sneakers For LaMelo Ball's Broken Ankle Injury?
While many have expressed their sympathy and support for Ball, some have also pointed fingers at his sneaker brand, Puma, for allegedly causing or contributing to his injury. Ball signed a multi-year endorsement deal with Puma in 2020, becoming one of their marquee athletes and launching his own signature shoe line, the MB.01. The MB.01 is a low-top sneaker that features a mesh upper with synthetic overlays, a TPU heel clip with Ball's wings logo, and a rubber outsole with traction pods. The shoe has been released in various colorways and collaborations, including a Rick & Morty-themed version and a Nickelodeon slime-inspired version .
Some conspiracy theorists have claimed that Ball's injury was caused by a design flaw in his Puma sneakers, specifically the lack of ankle support or cushioning. They have compared his injury to other NBA players who have suffered similar ankle injuries while wearing low-top sneakers, such as Kobe Bryant and Stephen Curry. They have also suggested that Puma's quality control or testing standards are inferior to other brands like Nike or Adidas. Also people have pointed out that other Puma athletes such as DeAndre Ayton also battled ankle injuries this season.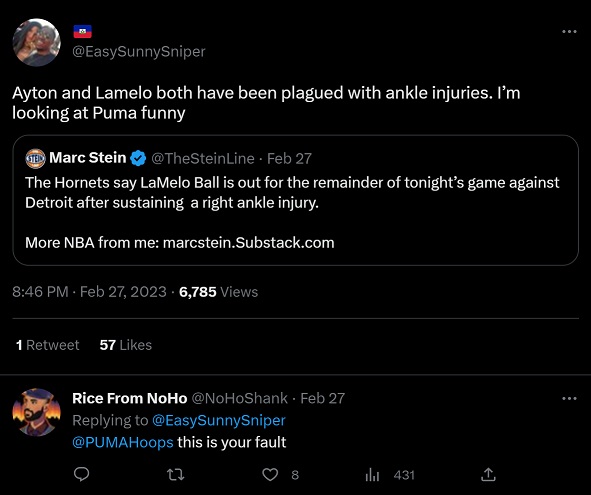 However, these claims are not supported by any scientific evidence or expert opinion. In fact, many studies have shown that there is no significant difference between high-top and low-top sneakers in terms of preventing ankle injuries. The most important factors are fit, comfort, stability and personal preference. Moreover, Puma is one of the leading sportswear brands in the world, with a long history of innovation and excellence in footwear design.
Puma has been involved in various sports such as soccer, motorsports and basketball since its inception in 1948. Puma has also been involved in several trademark disputes with Nike over terms like "footware" and "forever faster", indicating their competitiveness and ambition in the market.

Some people think it is unfair and unfounded to blame Puma sneakers for Ball's ankle injury. It's highly possible his injury was an unfortunate accident that could have happened regardless of what shoes he was wearing. Whether or not it was caused by any defect or negligence on Puma's part would be hard to prove.
The big question is if Lamelo was still wearing Big Baller Brand sneakers would he have gotten injured?