A hotel in Tallahassee, Florida, has issued a statement after a TikTok user posted a video claiming that she found a bag of blood in her hotel room. The video, posted by @1jusst.ash, showed her entering the Hilton Garden Inn room 215, which she said was dirty and had trash outside.
She then opened the closet and found a plastic bag with a red liquid inside. She said she called the housekeeping and was told that the bag was an aborted fetus from Planned Parenthood. The video quickly went viral, with over 10 million views and thousands of comments. Many viewers expressed shock and disgust at the hotel and the alleged fetus.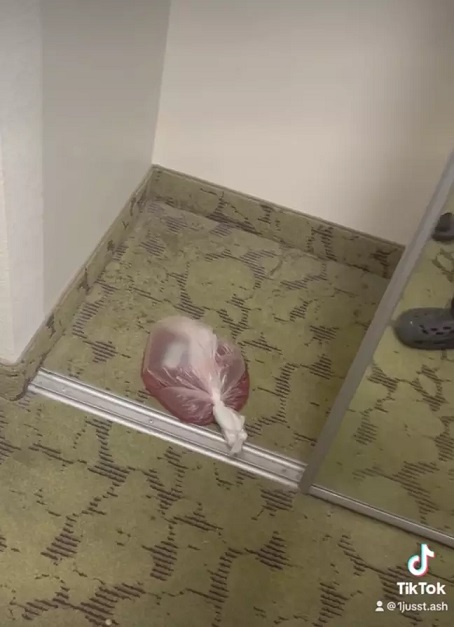 How Hilton Garden Inn Hotel Responded to the Claim
The hotel has denied that the bag contained a fetus and said that it was a false allegation. In a statement to the Florida Standard, the hotel said:
"In response to the serious allegation, our staff immediately contacted law enforcement and a thorough investigation was conducted. A forensic analysis concluded that the allegation was false. We take all guest concerns very seriously, and we strive to maintain the highest standards of cleanliness and safety for all our guests".
What Was Really in That Bag?
According to a police report obtained by the Daily Mail, the contents of the bag were actually wine and vomit left by a previous guest. The report also alleged that the hotel refunded @1jusst.ash for her stay and apologized for the inconvenience. At the moment it appears that @1jusst.ash has not commented on the hotel's statement or the police report.
This incident is not the first time that a hotel guest has posted a viral video showing something unpleasant or disturbing in their room. In recent years, there have been several cases of guests finding bugs, mold, stains, or even hidden cameras in their hotel rooms. Finding a bag of full of wine and vomit is definitely a new one.
These videos can damage the reputation of the hotels, and cause them to lose customers and revenue. However, some experts say that these videos can also be misleading or exaggerated, and that guests should be careful about what they post online.
I don't know about you, but if I find a bag full of a red substance in a hotel room, I would definitely post it online to let the world know regardless of what it really is. At the core it means their cleaners are doing a horrible job.