The Kansas Jayhawks football team has a new star in Jalon Daniels, the quarterback who led them to their first Big 12 conference opener win since 2009. Daniels is not only making headlines for his performance on the field, but also for his flashy accessory off it: a $50,000 chain that features an Apple Watch as a pendant, which plays his highlights on loop.
The chain, which was custom-made by a jeweler in Los Angeles, is one of the most extravagant examples of how college athletes are cashing in on their name, image and likeness (NIL) rights, which allow them to profit from endorsements and sponsorships. Daniels said he wanted to showcase his personality and creativity with the chain, which he calls "the iWatch".
However, not everyone is impressed by Daniels' chain. Some people on social media have criticized him for wasting his NIL money on something they consider tacky and unnecessary. They argue that he should invest his money more wisely, or use it to help his family or his community. They also question his priorities and his focus as a student-athlete.
Some people believe these critics are missing the point. People defending him believe Daniels' chain is not a sign of irresponsibility or arrogance, but of innovation and originality. From that perspective you could argue he is using his platform and his brand to express himself and to entertain his fans.
He is also showing appreciation for his achievements and his potential, which is something that many young athletes struggle with. He is not flaunting his wealth, but celebrating his talent.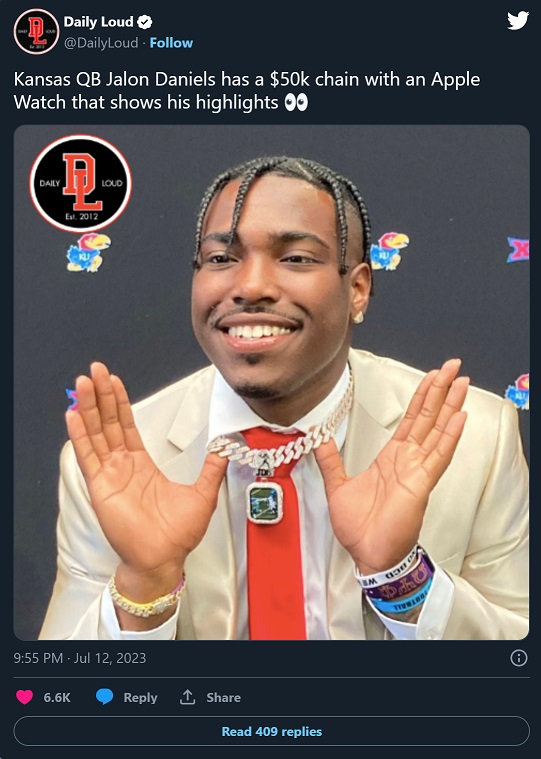 Whether or not you think Daniels' Apple Watch chain is tacky, we can all likely agree that it is definitely unique and creative. It is a reflection of his personality and his style, which are both important aspects of NIL marketing. He is not wasting his money, but investing in himself and his future. He is not losing his focus, but enhancing his confidence and his motivation.
In that sense Daniels' chain is not something to be mocked or scorned, but to be admired and applauded. He is setting an example for other college athletes who want to make the most of their NIL opportunities, buy increasing their marketability.
Who knows maybe Apple is paying him to wear that chain, or will offer him a deal after catching wind of it.