Denver's worst nightmare came true when Jamal Murry suffered a serious knee injury in the closing minutes of Nuggets vs Warriors. After driving for a layup and getting fouled, Jamal Murry landed on one leg while falling awkwardly. Judging from the footage it looks like Jamal Murray's knee injury might be similar to Samantha Cerio's knee injury.
What Type of Knee Injury Does Jamal Murray Have?
In the injury video it seems possible that Jamal Murray's knee slipped out socket, which would indicate a broken knee joint bone and torn ligaments. You could see a noticeable dip in the upper front knee area, which indicates his femur slipped backward where it attaches to the top of the tibia.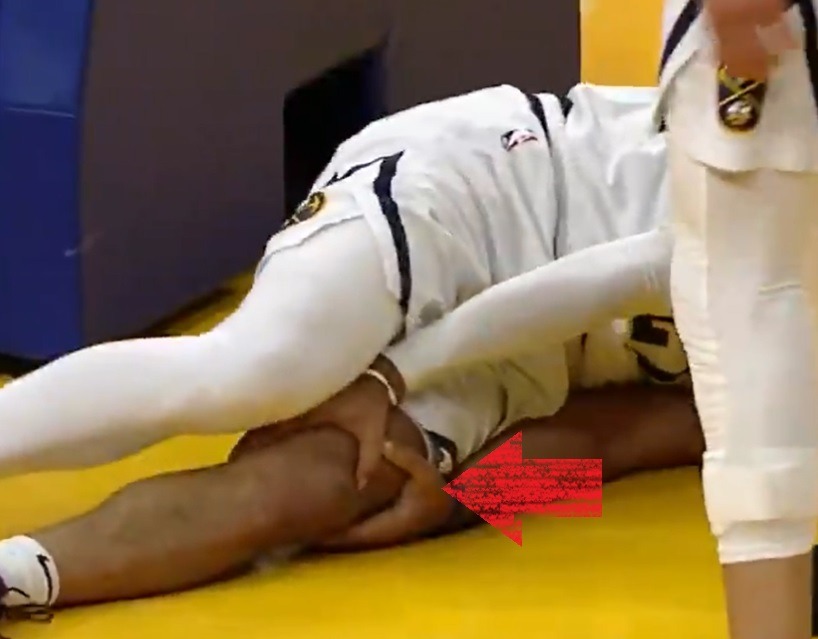 Nuggets coach Michael Malone reacted to Jamal Murray's knee injury conveying how worried and sad the locker room is about Jamal Murray's knee injury. It seems they already know it's something really serious.
Michael Malone's comments on Jamal Murray postgame: @CBSDenver #Nuggets #MileHighBasketball pic.twitter.com/wonVEwO7rL

— Michael Spencer (@MichaelCBS4) April 13, 2021
Why Was Jamal Murray Still in the Game?
On social media Nuggets fans were angry Jamal Murray was still in the game with Nuggets down 7 with 50 seconds to go. If Jamal Murray never gets injured and makes two free throws after the foul Nuggets would be down 5, which is a two possession game. In the NBA 7 points is a really small lead, and there was plenty of time to make something happen with a little luck, but was it necessary during a regular season game?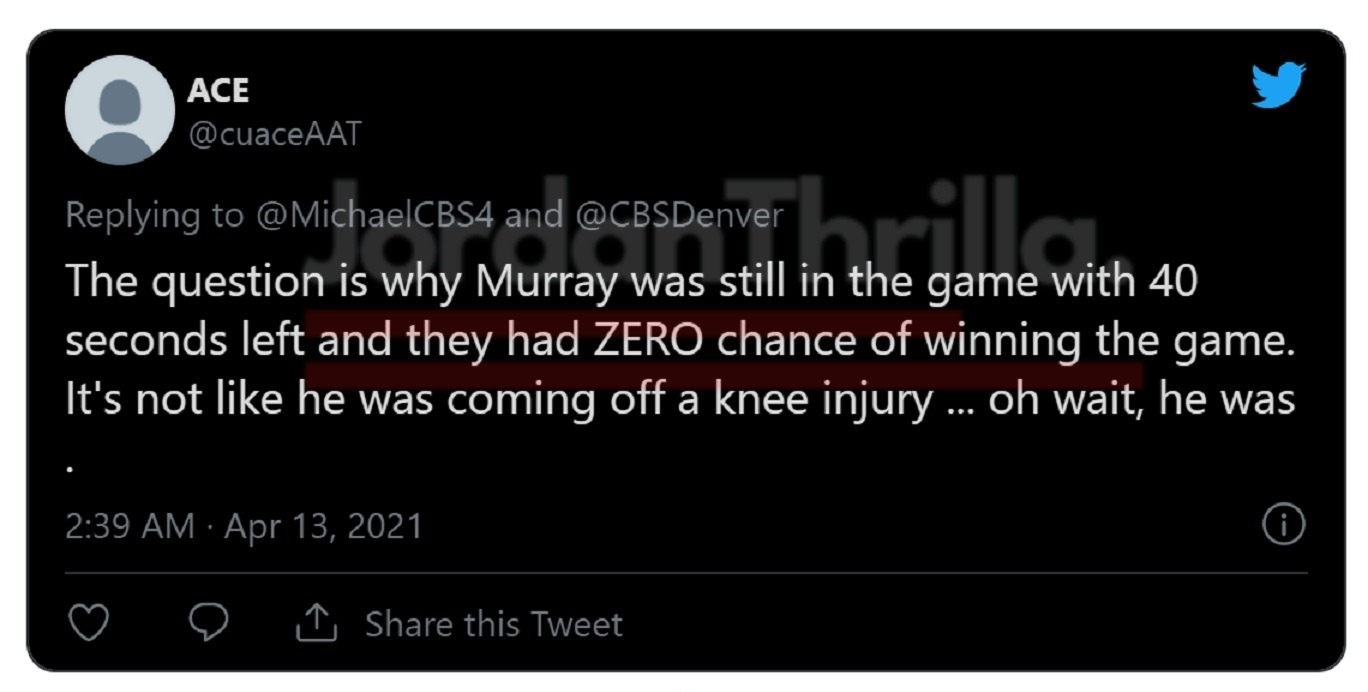 Jamal Murray was having another solid year averaging 21 ppg, 4rpg, and 5 apg on 47%fg and 40% 3pt fg. This really changes the landscape of the West, because many people had Nuggets as favorites to the make Finals after Lakers or Clippers.
Prayers up for Jamal Murray. Hopefully his knee injury isn't as serious as it looks.
UPDATE: It has been confirmed that Jamal Murray tore his ACL, and will be out for the rest of the season. Hopefully he comes back 100% next season.
Author: JordanThrilla Staff