An NBA 2K Reddit user has recently shared his experience of getting banned from Xbox Live after mentioning the name of an NBA legend, Manute Bol, in a message. The redditor posted a screenshot of the message he received from Xbox, which stated that he could not communicate with others, join multiplayer games, or upload media to the Xbox network.
Manute Bol was a Sudanese-born basketball player who played in the NBA from 1985 to 1995. He was known for being one of the tallest players in NBA history, standing at 7 feet 7 inches. His son Bol Bol plays a completely different style than him, but also has the same incredibly long body type that made his father a defensive presence in the league.
The redditor lost his account privileges after saying "I didn't see Manute Bol anywhere lol, but okay", to another gamer during their in game chat. The context of the conversation is unknown.
According to his claim he did not receive any warning or explanation from Xbox before getting banned. It's possible he revealed the situation online as a way of asking other Reddit users for advice on how to appeal his ban, and whether anyone else had experienced something similar. He titled his Reddit post revealing the situation "P.S. guys Manute Bol is a bad word on Xbox".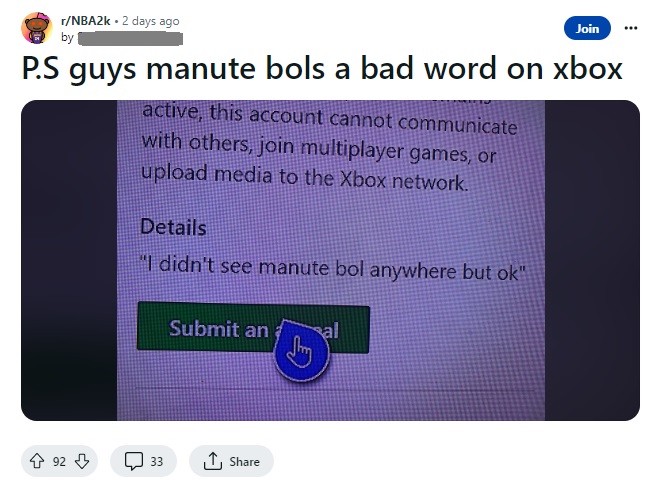 Why Manute Bol Probably Isn't a Bad Word on Xbox Live
The post received a lot of attention and comments from other 2k Reddit users who also came to the conclusion that his name was an offensive term on the Microsoft gaming platform. However, they may have been overlooking one glaring element in this situation.
It may seem like Manute Bol is a bad word on Xbox Live, because of how it could be interpreted by the AI algorithms, or the other players.
The user might have unintentionally made a racist remark about the skin color of Manute Bol, or the other player, in the eyes of the Xbox Live AI, which then enacted the ban hammer. AI software often struggles with recognizing context during conversations.
This situation raises some interesting questions about the use of language and communication on online platforms. How can people avoid misunderstandings and misinterpretations when chatting with strangers online? How can people ensure that their messages are clear and respectful?
What should the consequences be when someone mistakenly says something that might be considered inappropriate or offensive by others? How can that person prove what they said wasn't meant to be offensive? These are some of the challenges that gamers and online users face every day.
What do you think, will Xbox reinstate his account, or will they conclude there was ill intent behind the Manute Bol comment?