Sad news is spreading on social media that Brooklyn Drill Rapper Nas Blixky is dead. There were several posts on social media from well known hip-hop figures, which seem to confirm the tragic rumor. In this article we'll show you those social media posts, and some details about the alleged injuries that led to Nas Blixky's death.
Is Nas Blixky Dead? Details on Rumor Nas Blixky Was Shot to Death
According to rumors Nas Blixky was shot in the head during a surprise attack. An IG story posted from nasebk0 said Nas Blixky was dying in the hospital after the shooting. Yagi_b_trend posted a video saying that Nas Blixky was in critical condition. In addition Nas EBK posted a video celebrating Nas Blixky getting shot dead.
It's rumored that Nas Blixky died at the hospital from his brain hemorrhaging due to the gunshot wound. Take a look at these social media posts about Nas Blixky getting shot in the head.
Video and Posts of Nas EBK Celebrating Nas Blixky Dead
First take a look at how Nas EBK clowned Nas Blixky getting shot dead on his IG stories. He really wasn't holding back from throwing salt on open wounds. These were posted before the video you'll also see below.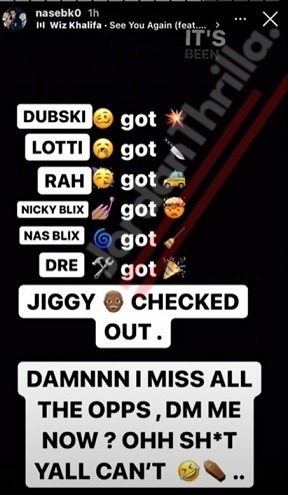 This is the video of Nas EBK celebrating Nas Blixky dead on IG live while smoking a blunt.
Here is the video of Yagi_b_trend saying Nas Blixky was critical condition at the hospital before the rumor spread that he died.
It's easy to see there is no love lost between Nas Blixky and his enemies even in the event of his possible death. The cycle of tragic occurrences happening in the New York drill rap scene will only continue with his opps celebrating the shooting so brazenly.
Prayers up for Nas Blixky's family. Hopefully there will be time when all these tragic shooting deaths in hip-hop come to an end, and peace prevails.