Juice Wrld Ex Girlfriend Alexa Speaks, and Alleges Someone From his Label was Supplying Him with Coke, Percocet Pills, and cough syrup Lean.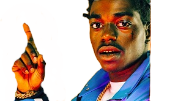 In a new interview with Dailymail, Juice Wrld's Ex-girlfriend Alexa, alleged that people from his music label were giving Juice Wrld coke, strong percocet pills and Lean cough syrup daily.
In the report, She says this got him addicted to lean and he would do drugs daily. It paints a picture of how Juice Wrld became trapped in the world run by the drugs he was addicted to.
A world he couldn't escape before it was too late. Almost like how Mac Miller became addicted to drugs, and couldn't escape before it was too late.
It's safe to say there is a definite problem with glorified drug use going on right now. Way too many people in the hip hop community are passing away because of drug related overdoses. Lets hope things change for the better, and people wake up.