As may or may not know Lil Boosie's IG account was banned and deleted. Now Lil Boosie is begging and crying for his Instagram Account to be returned. Lil Boosie claims his Instagram account was how he was feeding his family since he can't do shows.
If you were following Lil Boosie's Instagram account, you know he promoted all his products and business ventures on there, so he's definitely losing a lot of cash.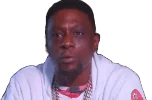 Lil Boosie has said many controversial things on Instagram that offended many people. He was banned several times before this last incident where he was banned permanently. However, it's still sad to see Instagram cut Lil Boosie off from making money to feed his family.
Lets hope Lil Boosie begging for his Instagram account gets it back. No one wants to see a hip hop legend go out like this.
Author: JordanThrilla