NORE Noreaga says Drink Champs Twin has died and passed away in a Tweet and instagram. Drink Champs Twin was shot in the back, then got into a car accident which paralyzed him leading to his death.
NORE was paying for his therapy, which was going well until recently.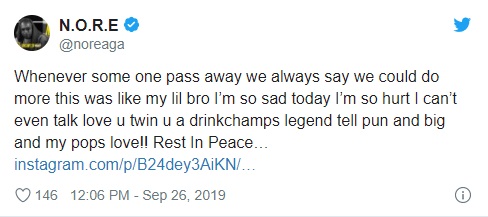 In a long heartfelt message Noreaga says,
"WHENEVER SOME ONE PASS AWAY WE ALWAYS SAY WE COULD DO MORE THIS WAS LIKE MY LIL BRO I'M SO SAD TODAY I'M SO HURT I CAN'T EVEN TALK LOVE U TWIN U A DRINKCHAMPS LEGEND TELL PUN AND BIG AND MY POPS LOVE!! REST IN PEACE !!! LOVE U 4LIFE!!!".
RIP to Drink Champs Twin. Pray for his family through this tough time.
Author: JordanThrilla