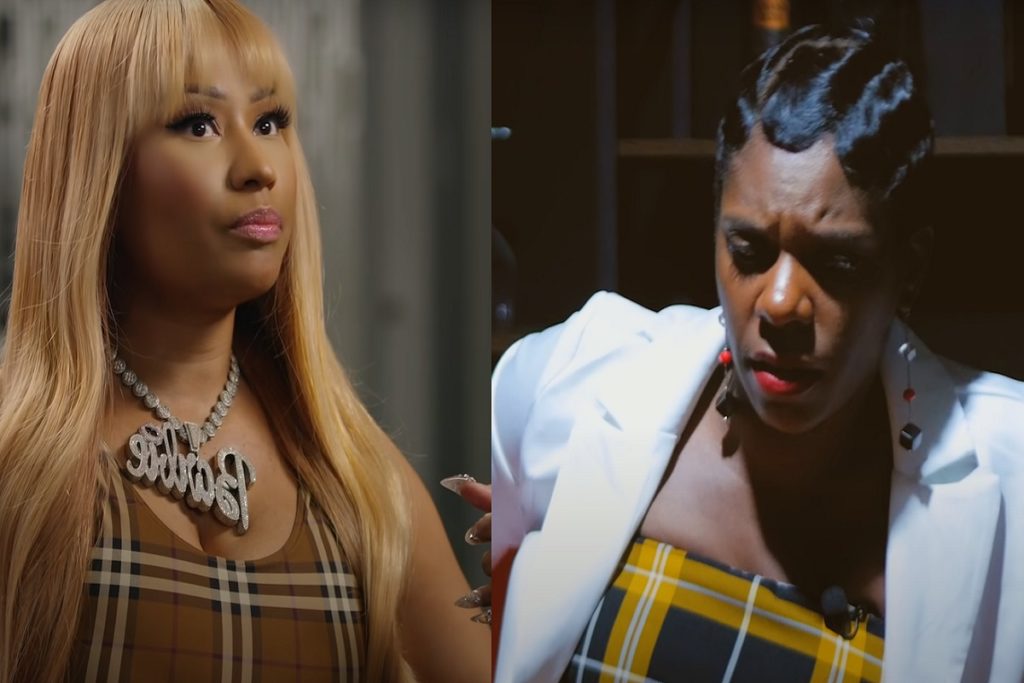 Tasha K is one of the most popular video bloggers mostly now known for owing Cardi B $4 Million after losing a lengthy court battle. Recently she became the target of criticism again for allegedly trying to stir up some trouble while she was on IG live with Nicki Minaj. As the footage catches more steam social media is speaking out against her alleged shady tactics.
Social Media Accuses Tasha K of Trying to Bait Nicki Minaj into Talking about Megan Thee Stallion Allegedly Ruining Teyana Taylor's Home on IG Live
Nicki Minaj has been beefing with a lot of people lately, such as her recent back and forth with Big Latto. Many people on social media believe that Tasha K was trying to covertly nudge her into another heated situation with a fellow female superstar in the rap game. During their IG live session Tasha K strangely brought up a rumor about Megan Thee Stallion allegedly ruining Teyana Taylor's home, and owing her money. To many on social media it seemed like Tasha K was trying to bait Nicki Minaj into talking about Megan Thee Stallion in a negative manner.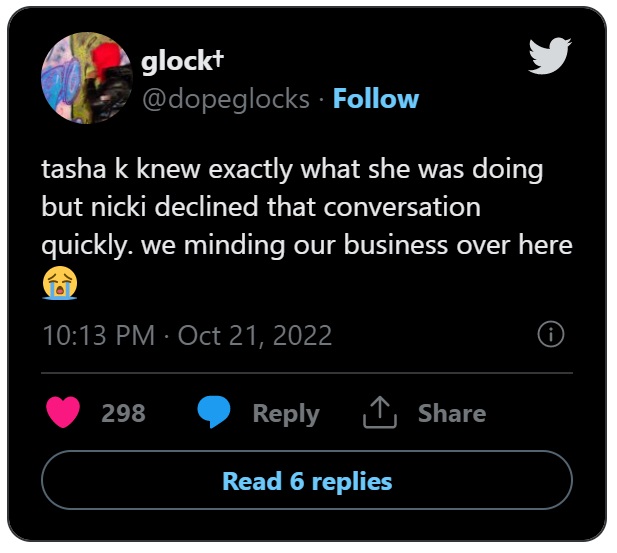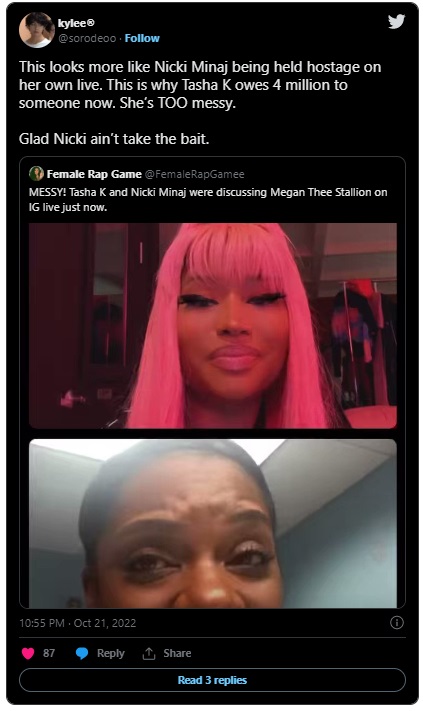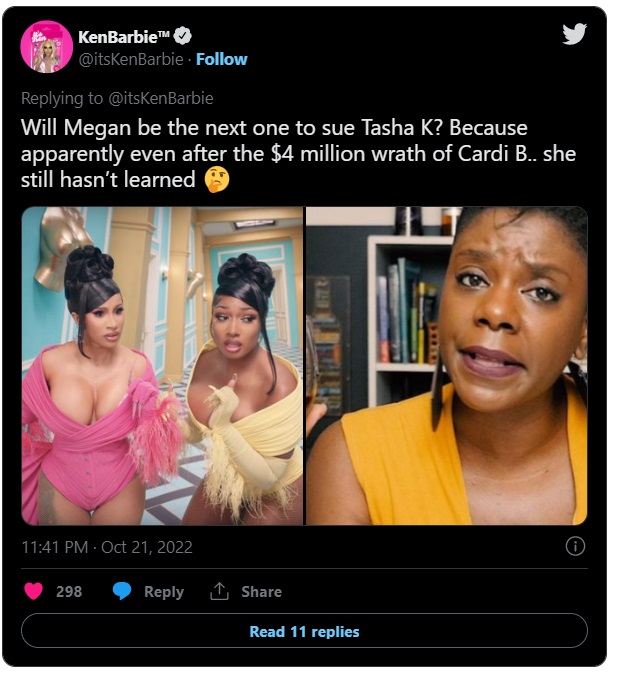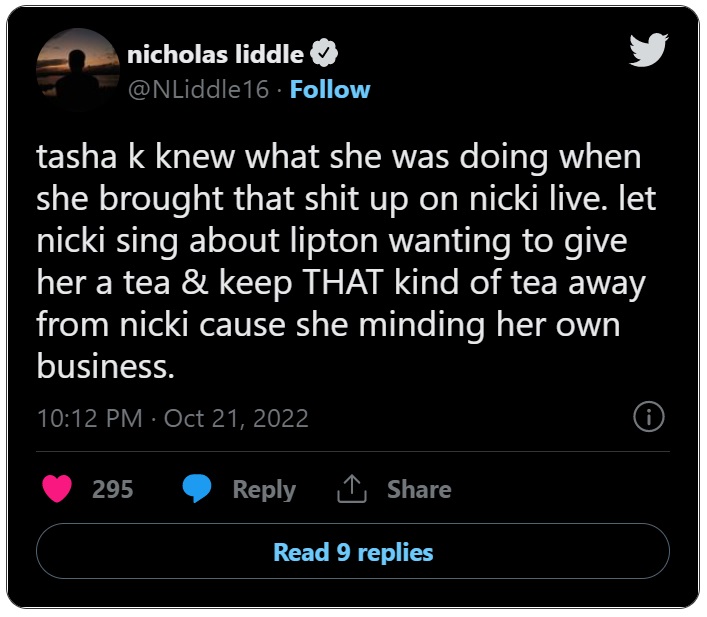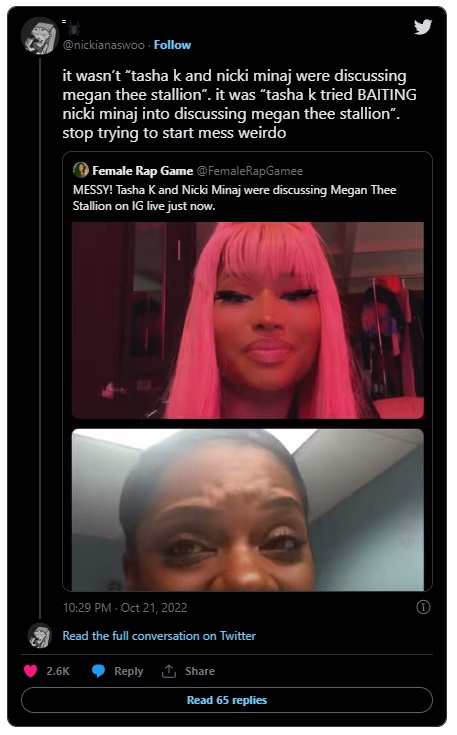 The Alleged Story Behind Megan Thee Stallion Ruining Teyana Taylor's Home
According to some reports Megan Thee Stallion allegedly rented a home from Teyana Taylor back in 2019. Based on Tasha K's story the home was allegedly vandalized while Megan Thee Stallion was renting it from her. Due to the alleged situation Megan Thee Stallion allegedly owed Teyana Taylor money, and she had trouble selling the home. She was able to sell the home recently.
As of right now there doesn't appear to be any concrete evidence that Megan Thee Stallion destroyed Teyana Taylor's home. Some people on social media believe that Teyana Taylor not following Megan Thee Stallion on Instagram could be a sign that something did happen between them, but that's a bit of a reach.